TiLite ZRa Series 2
The ZRa gives you the lightweight of titanium with all the adjustability you will need to customize the chair to your personal comfort.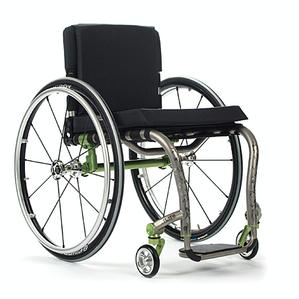 More Information on the TiLite ZRa Series 2
BACK TO TOP
Reviews
Viewing 1 - 2 of 2
a reliable ultraliglht wheelchair
12/16/2020
Strengths:
The chair is extremely comfortable. When I'm sitting in it I feel like I did back when I was able bodied, almost. It nearly knocks out my pain I normally have just sitting around and existing. The chair is extremely light and easy to move, I roll much further and much easier than I did in my old chair. It was extremely customizable, I can still adjust it (I have the ZRA) so even though the footrest came too long when it was initially assembled I just moved it up and now it's good. I got the Spinergy wheels and initially I was skeptical of the price tag but they are very light too and I like them. I got the adjustable velco strap upholstery with nylon padding and it is VERY good I would highly recommend it. I don't know if this is where you put it, but my spinlife salesperson, Greg, was also extremely knowledgeable and helpful.
Weaknesses:
It came with the brake locks assembled wrong and even with the manual I could not get them to get assembled correctly. When I tried rotating them around so that the brakes would touch the wheels, the lever part of the locks you push to lock them got stuck against the chair's frame. I have no clue how this happened or why. The ease of use rating was pertaining to this feature.
Reviewer:
juliana t. from rockford, il
User Details:
I am 26 and have a chronic pain disorder necessitating a wheelchair in order to be able to leave the house.
Won't fit in vehicle easily
01/01/2014
Strengths:
Weight, quality.
Weaknesses:
It won't fit in my car easily. I have a GMC Terrain and its hard to fit past steering wheel.
Reviewer:
sandra p. from grants pass, or
User Details:
Not provided