TiLite ZRa Series 2
The ZRa gives you the lightweight of titanium with all the adjustability you will need to customize the chair to your personal comfort.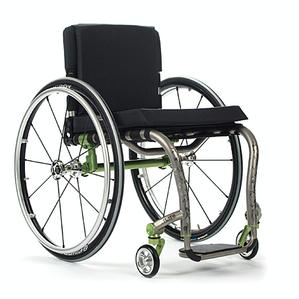 More Information on the TiLite ZRa Series 2
BACK TO TOP
Reviews
Viewing 1 - 12 of 23
05/22/2022
Strengths:
TiLite wheelchairs have a positive reputation the ZRA2 is a nice option and the chair did arrive with the measurements I advised in my order.
Weaknesses:
This wheelchair arrived to me with wheel stops improperly installed as well as a couple of other annoyances which required Tilite to fix - which they DID I should add. I would repeat the purchase
Reviewer:
charles m. from fayetteville, nc
User Details:
33 yr old male with severe autoimmune damage to bones and muscles to lower extremities; wheelchair dependent over 13 years
a reliable ultraliglht wheelchair
12/16/2020
Strengths:
The chair is extremely comfortable. When I'm sitting in it I feel like I did back when I was able bodied, almost. It nearly knocks out my pain I normally have just sitting around and existing. The chair is extremely light and easy to move, I roll much further and much easier than I did in my old chair. It was extremely customizable, I can still adjust it (I have the ZRA) so even though the footrest came too long when it was initially assembled I just moved it up and now it's good. I got the Spinergy wheels and initially I was skeptical of the price tag but they are very light too and I like them. I got the adjustable velco strap upholstery with nylon padding and it is VERY good I would highly recommend it. I don't know if this is where you put it, but my spinlife salesperson, Greg, was also extremely knowledgeable and helpful.
Weaknesses:
It came with the brake locks assembled wrong and even with the manual I could not get them to get assembled correctly. When I tried rotating them around so that the brakes would touch the wheels, the lever part of the locks you push to lock them got stuck against the chair's frame. I have no clue how this happened or why. The ease of use rating was pertaining to this feature.
Reviewer:
juliana t. from rockford, il
User Details:
I am 26 and have a chronic pain disorder necessitating a wheelchair in order to be able to leave the house.
12/03/2020
Strengths:
Not used it long enough to know
Weaknesses:
Not used it long enough to know. Too narrow because its not what I ordered but thats down to spin life or ti lite
Reviewer:
stewart w. from orange city, fl
User Details:
age 54 paraplegic t6/7
TiLite ZRa Series 2: Review
02/18/2019
Strengths:
Light weight is awesome!
Weaknesses:
Brakes don't stay put, always have to be adjusted.
Reviewer:
lavaille r. from emerson, ne
User Details:
Not provided
So much better than my previous chair but overpriced
09/07/2018
Strengths:
Very light weight. Handles well. Looks nice. Easy to transport. Adjustable.
Weaknesses:
Came with one break not attached. Despite alerting Tilite and Spinlife to this no one felt the need to respond. For this much money they need to double check that all parts are on and adjusted correctly. Set up a bit differently than many chairs so the footrest angle is deceptive. I got a 90° angle and it's too tucked it. Next time I would do an 80° and it would still be compact. Not a huge fan of the natural grip hand rims.
Reviewer:
jessica e. from arroyo grande, ca
User Details:
20s, neural tube defect (spinal cord issues). Fatigue and frequent falls, part time user. Unable to lift much.
Excellent chair, easy to roll and use.
07/30/2018
Strengths:
The light weight features.
Reviewer:
deanna w. from idaho falls, id
User Details:
59 years old, T-11-12 incomplete lesion spinal cord injury. Very active user.
Good quality, good customer service, and prompt shipping!
05/02/2018
Strengths:
Custom made for me - absolutely perfect.
Weaknesses:
It can be difficult to understand what all the different measurements are for.
Reviewer:
blanca r. from arlington, va
User Details:
Physically disabled person.
Works so well and rolls so easily.
09/20/2017
Strengths:
Titanium and every light weight piece that you can customize.
Reviewer:
sherry f. from santa fe, nm
User Details:
I have a chronic nerve disease and I needed the lightest wheel chair possible in order to remain independent. This is perfect and light enough for me.
02/03/2017
Reviewer:
gregory k. from norwalk, ct
User Details:
Not provided
Feels like you are riding a rocket!
10/22/2016
Strengths:
Extremely lightweight Responsive Comfortable
Weaknesses:
So far, I havent found any weaknesses
Reviewer:
felipe l. from new york, ny
User Details:
38 years old, paraplegic, loves outdoor sports
10/14/2016
Strengths:
The chair fits me well, super well made and designed. It's easy to take apart and put in my car.
Weaknesses:
I have no problems or issues with this chair.
Reviewer:
malcolm b. from nantucket, ma
User Details:
Male, 53, 6'4". Incomplete C-5 - I walk with crutches, but not for long distances.
TiLite is my preference because of the light weight.
06/26/2016
Strengths:
TiLite chairs are the only rigid chair I found that is light enough to move in and out of a vehicle with ease.
Weaknesses:
Have been using TiLite for seven years and find no weaknesses. That is why I bought a second TiLite.
Reviewer:
robert t. from lords valley, pa
User Details:
I am a seventy three year old male with very limited use of my lower extrremeties mandating me to use a wheelchair to function. I prefer a light chair