Universal Outside Carrier
Simple design and oversized platform makes this lift compatible with most scooters and power chairs.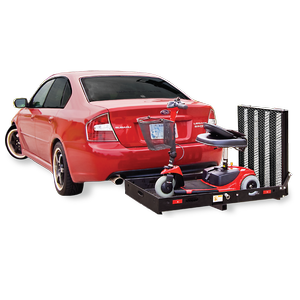 More Information on the Universal Outside Carrier
BACK TO TOP
Reviews
Viewing 1 - 9 of 9
10/23/2019
Strengths:
As you drive it is great to know your scooter is secure.
Weaknesses:
The ramp is heavy for me and I would have liked more reflectors and another holding pin to secure the ramp once it is upright.
Reviewer:
nona c. from stoneville, nc
User Details:
Over 60 female with joint issues. Needed to get a scooter so the lift had to come as well. Needed assistance to put the lift on vehicle.
Brilliant design and easy to use.
04/15/2018
Strengths:
It folds up vertically when not in use.
Weaknesses:
If you have right arm or shoulder weakness, you will need assistance.
Reviewer:
robin d. from oakland, ca
User Details:
I have mobility problems so I need to bring my scooter with me when I drive.
Universal Outside Carrier: Review
04/21/2017
Strengths:
Very well-built and easy to install.
Reviewer:
dennis s. from pharr, tx
User Details:
76 year old male with spinal cord injury. I have very limited use of my legs.
11/22/2012
Strengths:
the comfort and the way it maneuvers, its great
Weaknesses:
nothing at this point
Reviewer:
nancy g. from evans, ga (caregiver)
User Details:
Not provided
Single tongue not stable enough, but otherwise, excellent.
07/19/2012
Weaknesses:
See one line summary.
Reviewer:
teresa s. from summerville, sc
User Details:
Not provided
It carried my Jazzy to Hershey Park on Sunday worked...
06/01/2012
Strengths:
In expensive for the quality of the product, easy to attach.
Weaknesses:
Works the way I hoped it would.
Reviewer:
joesph d. from drums, pa
User Details:
Not provided
05/31/2012
Reviewer:
harold s. from santa rosa, ca
User Details:
age: 72, back problems, can walk only 20 steps without agonizing pain.
Universal Outside Carrier: Review
02/15/2010
Strengths:
well made and easy to use
Reviewer:
harvis g. from qulin, mo
User Details:
Not provided
10/16/2009
Strengths:
well made, easy to use
Reviewer:
helen s. from sarahsville, oh (caregiver)
User Details:
He is an 88 yr, old college professor who has diffulty walking