Universal Outside Carrier
Simple design and oversized platform makes this lift compatible with most scooters and power chairs.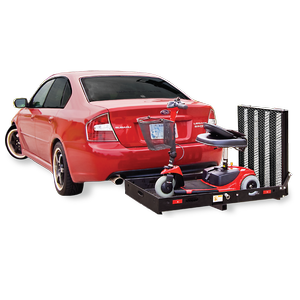 More Information on the Universal Outside Carrier
BACK TO TOP
Reviews
Viewing 1 - 8 of 8
02/06/2019
Weaknesses:
It should have more red tail markers when it is in use. The upright part needs some too.
Reviewer:
agnes h. from burlington, nc
User Details:
Not provided
One thing that was missed was the rear sensors for reverse....
07/27/2017
Strengths:
Makes you independent.
Reviewer:
gregory b. from dearborn, mi
User Details:
Can only walk 10 to 15 yards before stopping. Can be quite painful.
10/03/2015
Strengths:
It makes it easy to get out and around.
Weaknesses:
I have not found any yet.
Reviewer:
salley h. from buffalo, ok
User Details:
Not provided
Universal Outside Carrier: Review
07/05/2013
Strengths:
Looks pretty good, but haven't been able to properly attach it yet
Weaknesses:
Too close to the ground. Had to try to locate a hitch lift attachment to raise it a few more inches on my Pontiac g6 Ended up having a welder, machinist make one for me , but he hasn't done it yet. Next week, he says. too
Reviewer:
isaac c. from dalton, ma
User Details:
89 years old, difficulty in walking , have a power wheel chair
06/28/2013
Weaknesses:
Ties down in the back
Reviewer:
ralph g. from fremont, ca (caregiver)
User Details:
75 years old can't walk at all
it's a good product for a manual lift.
06/16/2012
Strengths:
it is very well constructed and very sturdy.
Weaknesses:
it is hard for older people to use because the pin that holds it up when not in use is hard to remove,especially if you have arthritis or are not very strong. i am the one who lets it down to use. i'm a woman and i'm 53.the finger holes on the lift are o.k. but one of them is not very useful because the ramp on the lift blocks it.
Reviewer:
frank b. from hiram, ga (caregiver)
User Details:
my husband is the one who is disabled. he is 63. he has COPD. he also has cellulitis in both legs. his legs and feet stay swollen all the time.
06/11/2012
Weaknesses:
having to remove to use other things
Reviewer:
jeffrey b. from chesapeake, va
User Details:
very nice easy to use
Universal Outside Carrier: Review
06/04/2012
Strengths:
It is light weight. Once I got the pins and holes worn in a little they worked real well.
Reviewer:
paul l. from amarillo, tx
User Details:
Not provided