Pivot & Tilt Overbed Table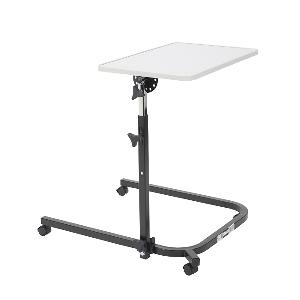 More Information on the Pivot & Tilt Overbed Table
BACK TO TOP
Reviews
Viewing 1 - 2 of 2
I am partially paralyzed an it's difficult for me to adust.
02/23/2019
Strengths:
Very heavy duty. This thing will never fall apart.
Weaknesses:
Cumbersome and difficult to move around in a small room. Threads on re adjustment knobs are really rough and had to be cleaned up to work smoothly.
Reviewer:
ken h. from palm springs, ca
User Details:
Partial quadraplegic due to broken neck (c5c6c7) btk amputation, colostomy due to nerve damage. All due to a fall from a two story fall from a roof.
Pivot & Tilt Overbed Table: Review
03/03/2011
Weaknesses:
The base/legs took up too much room Had also hoped to use beside a chair and pivot table over chair but again base took up too much room and would have had to take apart to make work each time wanted to change position
Reviewer:
robert a. from canal winchester, oh (caregiver)
User Details:
65 yrs on O2 very weak passed away before using