Quickie 2 Lite
All the quality and features that make the Quickie 2 great, but at a lighter weight.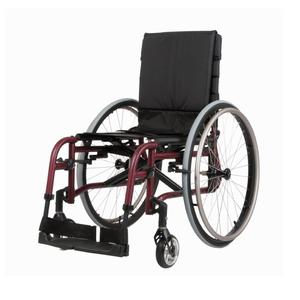 Sunrise / Quickie
(Model No. EIQ2NL)
VIEW ITEM
More Information on the Quickie 2 Lite
BACK TO TOP
Reviews
Viewing 1 - 12 of 27
Exactly what he was wanting.
02/26/2023
Strengths:
Lightweight and comfort.
Reviewer:
janna g. from hoopeston, il (caregiver)
User Details:
The user is a 65 year old male, that is classified as an odd quad, he needs a wheelchair to get around.
GREAT product, even better service provided by this amazing...
02/16/2020
Strengths:
Strength and quality of just about everything
Weaknesses:
Nothing that I can tell thus far
Reviewer:
mike r. from vista, ca
User Details:
36 year old male with neuromuscular disease
Third chair of this same product that I have purchased.
07/30/2019
Strengths:
Light and comfortable
Weaknesses:
On this chair there was a mistake and the seat is too short.
Reviewer:
charles s. from opelika, al
User Details:
Not provided
Third time purchasing same chair so I knew what I was...
04/26/2017
Strengths:
Ulta light weight makes it super easy for me to transport. Love pneumatic tires.
Weaknesses:
It creaks!!! Loudly! Don't recall this being an issue with any of my other chairs. Any the outside rims for pushing....have they been treated with something special? My finger get burned when I am trying to control speed going down ramps!
Reviewer:
lisa p. from plant city, fl
User Details:
60 year old very active female amputee with spina bifida.
I still have some issues with the chair but it will have to...
04/22/2017
Strengths:
The chair is ok, not great, just ok.
Weaknesses:
The back of the chair that allows someone else to push the chair the handles are too low and need to be higher.
Reviewer:
mrs f. from spencer, nc
User Details:
70 physical disability
02/18/2017
Reviewer:
craig f. from newburgh, in
User Details:
I use my wheelchair all day long. It is my mode of walking.
As a DAKA the front wheels LIFT toooo easily and the grip...
01/23/2017
Strengths:
Light weight, removeable wheels, nice paint job, bicycle tires (solid), arrived quickly (2day), pleasant young lady to work with.
Weaknesses:
Balance is really wrong for a DAKA and the metal wheel hand rail provides poor hand grip. My hands slip on the railing making it hard to go up an incline along with the lifting of the front wheels. My old wheel chair is much better at going up hill.
Reviewer:
stanley r. from valley center, ca
User Details:
Age 87, double above the knee amputee, play wheelchair tennis in a special chair, kayak, and drive out to the ABDSP desert by myself in my truck.
12/27/2016
Strengths:
Narrow and light weight.
Weaknesses:
Don't know yet hasn't been old enough yet.
Reviewer:
christiannne s. from corpus christi, tx
User Details:
T-12 paraplegic. 53 years old, have been disabled for 37 years.
Met expectations with a few suggestions.
07/22/2016
Strengths:
It is light weight.
Weaknesses:
Should be a pocket on seat back. Pack should have shoulder straps (like a backpack) and instructions should come with the cane holder.
Reviewer:
larry g. from new york, ny
User Details:
I have a motor neuron disease, part of ALS with only one working leg.
02/21/2016
Strengths:
Light weight. Easy to remove wheels and footrests. Greatly improved footrest connection.
Reviewer:
douglas k. from davis, ca (caregiver)
User Details:
33 year old male with cerebral palsy who can stand and walk for short distances, but needs a wheelchair for comfort and greater distances
I can think of no improvments to this devise.
01/02/2016
Strengths:
It doesn't weigh very much and I get around easily.
Reviewer:
philip c. from stroudsburg, pa
User Details:
I am 69. have spinocerebellar atrophy and live in an assisted living facility.
10/08/2015
Strengths:
It is lightweight, has great maneuverability and is very adjustable.
Reviewer:
carl g. from collingswood, nj
User Details:
Quickie 2 Lite is a perfect wheelchair for a 52 year old parapalegic.