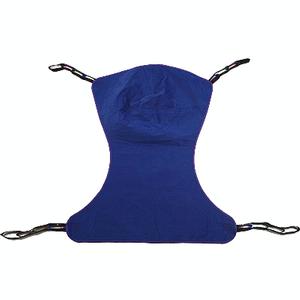 Invacare
(Model No. R112/R113/R117)
VIEW ITEM
More Information on the Full Body - Solid
BACK TO TOP
Reviews
Viewing 1 - 12 of 28
Full Body - Solid: Review
06/20/2020
Reviewer:
terah f. from beckley, wv
User Details:
Not provided
Quality product, well made.
07/13/2017
Strengths:
Well made, stitching and reinforcement good. Color coding of sling loops to make it easy to hook up evenly to sling. Strong sturdy fabric with soft finish towards patient.
Weaknesses:
Only medium and large sizes available. Medium was still overly large for individual using it (5' tall, 100 pounds) One more smaller size would be useful for smaller individuals.
Reviewer:
cynthia k. from john day, or (caregiver)
User Details:
Individual is unable to stand or walk. Sling used to transfer from bed to wheel chair or reverse. And to transfer from wheel chair to dialysis chair.
Sturdy product that I like much better than the mesh sling.
01/08/2017
Strengths:
Sling can be left under user while up in wheelchair.
Weaknesses:
No weaknesses that I have experienced. I have not washed it yet as I do not use it everyday.
Reviewer:
judy g. from vivian, la (caregiver)
User Details:
59 Year Old male with Downs Syndrome, Alzheimer's, and Parkinson. Cannot walk or assist in any way.
It is exactly as described.
09/04/2016
Reviewer:
michael c. from mesa, az
User Details:
I am a quadraplegic and require a hoyer lift to get in/out of bed.
Needs to be smaller, less fabric
07/29/2016
Strengths:
It is holding well, but black strips are too low to lift back. Hurts hands, would work well if put on right in beginning
Weaknesses:
Too big and cumbersome
Reviewer:
wreatha c. from st johns, mi
User Details:
89 years old, weight 247 lbs, right leg amputated above the knee, working with prosthesis to be able to walk.
Full Body - Solid: Review
05/07/2016
Reviewer:
george l. from knoxville, tn
User Details:
Female 76 Cannot stand alone or walk Needs help to get in and out of chair
Product took care of my problem
04/29/2016
Weaknesses:
Needs to be marked better as to what is head and what legs ends of sling
Reviewer:
rick v. from alta loma, ca (caregiver)
User Details:
My wife has MS and falls down a lot, I tore my rotary cuff and could not pick her up with my left arm, the sling they sent with the unit did not work
02/04/2016
Strengths:
My sister feels secure sitting in it
Reviewer:
earnestine v. from columbus, ga
User Details:
My sisters age is 85. She had a stroke and can not stand. The medium sling is just right. I just have to learn where to place it under her...
Full Body - Solid: Review
03/13/2015
Weaknesses:
Dimensions of actual unit does not meet the dimensions spec sheet on the catalog page. Needs real dimensions so one can make proper selection.
Reviewer:
jerry r. from schertz, tx (caregiver)
User Details:
Handicapped lady that falls or slips out of chairs. She is obese, so also purchased the body lift.
Commercial grade, high quality unit.
01/07/2015
Strengths:
As mentioned above in the 1-5 questions.
Weaknesses:
The sling that came with the unit. Very difficult to assemble and dangerous with this particular patient. It pitched her forward.
Reviewer:
julie p. from escondido, ca
User Details:
I'm the Senior Patient Advocate. The patient is a 92 year old resident in assisted living.
10/12/2014
Strengths:
Well made, no worries about tearing or coming apart. Long lasting and comfortable for my wife.
Reviewer:
kenneth l. from morro bay, ca (caregiver)
User Details:
My wife has muscular dystrophy, and is either in bed or in her power chair. We use a Hoyer lift and a use a Invacare full body sling to transfer her
Full Body - Solid: Review
03/02/2014
Reviewer:
linda k. from tempe, az
User Details:
Not provided