Zip'r PC
This six-wheel design boasts impressive maneuverability and safety centered around the large center wheels for a smooth, comfortable ride every time.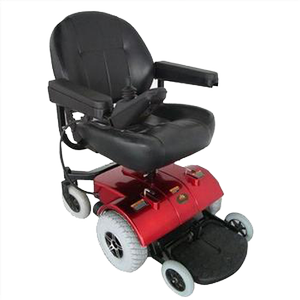 More Information on the Zip'r PC
BACK TO TOP
Reviews
Viewing 1 - 12 of 35
04/13/2022
Reviewer:
bob l. from grass valley, ca
User Details:
He's a fed up crippled old fart who's tired of you erasing his review, twice. It was about a 4 o.a.
Well satisfied with purchase, seat reclines slightly, a...
07/30/2017
Strengths:
Easy to assemble, well made, a good power chair for the price.
Weaknesses:
Takes awhile to get used to the joystick.
Reviewer:
lucian c. from la porte, tx (caregiver)
User Details:
This chair is well made, easy to assemble, and seat reclines slightly. Well satisfied with purchase and will be used when going to the VA hospital.
no storage, front wheels make it very difficult to use, I...
04/26/2017
Strengths:
the seat is comfortable
Weaknesses:
no storage, Monster Bag is too big and bag on back is impossible to reach. front wheels make getting off difficult. so wide that I bump into furniture and risk injuring my feet. I had a smaller power chair that had storage and was easy to maneuver but seat and platform too small.
Reviewer:
jennifer c. from falls church, va
User Details:
age 75, MS, use power chair almost all the time. can walk short distances with rollator.
Dangerous going down a ramp
03/06/2016
Strengths:
Length of charge
Weaknesses:
Feels like it will tip over going down a ramp.
Reviewer:
lauren c. from griffin, ga
User Details:
79 yrs old. Week legs. shortness of breath.
12/20/2015
Strengths:
Turn radius Battery life
Weaknesses:
Not sturdy Bolts need tightening often Was NOT easy to assemble, heavy
Reviewer:
shirley a. from roanoke rapids, nc
User Details:
67 YO Female w dxs as follows: Rheumatoid arthritis w chronic pain Diabetes, type 2, insulin dependent Charcot ft w tarsometatarsal fusion Stage
I am satisfied with this product - I would buy again.
10/11/2015
Strengths:
It is well-designed and the size is comfortable.
Reviewer:
roger f. from aberdeen, wa
User Details:
89 years old. Very disabled yet can walk some with walker etc.
Very good chair with a few tiny problems
01/01/2015
Strengths:
Sturdy, comfortable, well-made
Weaknesses:
Tiller is constantly getting hit (by me, my clothes, other people's clothes) causing chair to turn on (in some instances) and go forward unexpectedly. Even when I bend over in some instances, it jolts forward, because I have hit the tiller. One time it happened in the kitchen, and My hand was stuck between the chair and a kitchen cabinet, and I couldn't get at the tiller (hard to explain position). How about a flat tiller (sort of like the circle with the up/down and left/right design on most TV remotes? To me, this is the biggest design flaw. It CAN be very dangerous. On speeds 3 & 4, the chair will not go in a straight line, but instead veers from left to right. It is loud, making a loud WHIRRR. I have rented a slightly smaller wheelchair, but basically very similar, and it was extremely quiet compared to this one. I don't like it because when you enter a room, all eyes turn to you because of the noise. These are all small things, but if improved, would make this a much better product.
Reviewer:
dayna t. from bloomington, in
User Details:
I am a 63-year old female who is retired on disability. I recently had my left leg amputated after 14 years of leg surgeries and pain.
09/03/2014
Strengths:
Like I said above, it is a fine machine
Reviewer:
dick k. from riverdale, ca (caregiver)
User Details:
Not provided
It's exactly what we wanted. No complaints.
08/10/2014
Strengths:
Its agility in a small household.
Weaknesses:
I cannot find any, but my husband is finding the steering difficult to adjust to. I believe his condition has something to do with it. It will just take longer for him to become familiar and with it, I sure he will succeed.
Reviewer:
henriette d. from ashby, ma (caregiver)
User Details:
My husband is diabetic and has ulcerated feet. He also has dementia.
06/29/2014
Strengths:
Assembled with no tools.
Weaknesses:
Would like adjustable armrests.
Reviewer:
robert b. from seattle, wa
User Details:
65 years old, above knee amputee.
05/14/2014
Weaknesses:
Instructions are very confusing.
Reviewer:
lynn r. from reston, va
User Details:
56 year old female with Spinal Stenosis.
05/02/2014
Strengths:
Very good turning radius and range
Weaknesses:
The cable too short to the controller, can't raise the arm rest.
Reviewer:
ronald m. from turtle lake, wi
User Details:
I'm 68 and totally disabled I use this from the time I get up till bed (indoors and outside) and am satisfied so far.