Sentra HD 500
Best value for a 500 lb. weight capacity chair with great standard features.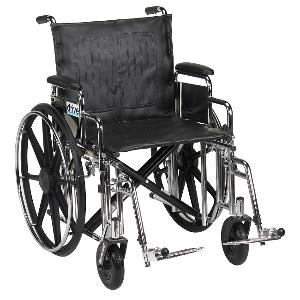 More Information on the Sentra HD 500
BACK TO TOP
Reviews
Viewing 1 - 12 of 28
09/16/2022
Strengths:
It works for me. So far I see no weakness in this product
Reviewer:
ronnie b. from kentwood, mi
User Details:
I'm 69 years old and I think the chair is great so far I only had it a couple weeks but it's really workin??g well for me thank you spend life!
08/22/2022
Reviewer:
mark s. from indianapolis, in
User Details:
As a church we needed a W/C that could accommodate some of our attendees that wouldn't fit in a 'normal' sized chair. This one will take care of that
Excellent product and price.
08/18/2022
Strengths:
Sturdy and well made.
Reviewer:
ioan b. from las vegas, nv
User Details:
Not provided
09/16/2021
Strengths:
Feels more comfortable than other plus-size wheelchairs I've used
Weaknesses:
Have only used the chair once so far so haven't found any weaknesses yet
Reviewer:
karen d. from scales mound, il
User Details:
65 year old female with limited walking ability due to damaged knee ligaments
06/02/2021
Reviewer:
tamla h. from dequeen, ar
User Details:
purchased as a training tool for the OTA program
04/14/2021
Reviewer:
patrick s. from harrisburg, pa (caregiver)
User Details:
Amputee 49 female obese
10/12/2020
Strengths:
quality construction
Reviewer:
darron r a. from savannah, ga (caregiver)
User Details:
This is used in our periodontal practice for transporting patients to their vehicles, post IV sedation surgical procedures.
09/11/2020
Weaknesses:
SO FAR THERE IS NO WEAKNESS ON THIS PRODUCT.
Reviewer:
marvin e. from elsberry, mo
User Details:
I ENJOY THIS PRODUCT REAL WELL. / ITS GOOD FOR ME.
Cell phone ?? added to Chair ?? Would be good
08/19/2020
Strengths:
Constructed with good Metal....
Weaknesses:
None Maybe Thicker and Better Tires should be considered.... I'm told Large Tires should go on the Front and Smaller ones on the back.... Respectfully...
Reviewer:
furquan a. from norfolk, va (caregiver)
User Details:
Female. 275 Pounds. 5'5" Tall. Arthritis in Shoulder, Wrist, and Elbow. Self Healing Aids is being used to relieve pain. Feet Size 13 Wide. Healthy..
06/26/2020
Weaknesses:
The front wheels don't move like they should
Reviewer:
richard d. from canton, oh (caregiver)
User Details:
My daughter uses the chair. It has made things so much easier for her.
Your products are always the best.
03/20/2020
Strengths:
Price, availability, and delivery time frame
Reviewer:
paul p. from secaucus, nj
User Details:
We as the Knights of Columbus has delivered the wheelchair to a wife of one of our deceased members and as of today I have not received any complaints
02/14/2020
Strengths:
Being truly heavy duty at the best price
Reviewer:
reginald h. from pillager, mn
User Details:
It is the best product for the price ,,,,my other chair was 2x the price and only half as good ,,,,I will be back for another heavy duty chair ,soon