Sentra HD 500
Best value for a 500 lb. weight capacity chair with great standard features.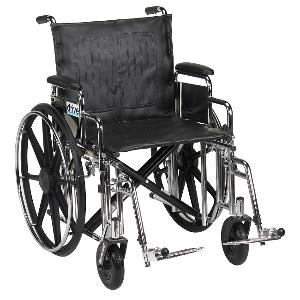 More Information on the Sentra HD 500
BACK TO TOP
Reviews
Viewing 1 - 4 of 4
Good heavy-person wheelchair, but could use better...
01/21/2023
Strengths:
Strong frame. Good wheels. Better brake design than many other wheelchairs. Seems well finished.
Weaknesses:
The seat upholstery is pretty cheap and flimsy for a 500lb user chair. I'm certain it will crack, then tear near the front. At $550 chair, I'm not impressed.
Reviewer:
william g. from homer city, pa (caregiver)
User Details:
My wife is a 5' 9" tall, 350lb with a below the knee amputation of her right leg. She uses a wheelchair most of the time. 
08/31/2019
Strengths:
Very comfortable
Reviewer:
dorothy o. from lumberton, tx
Better quality than most similar items on the market.
06/26/2015
Strengths:
Constructed of good quality materials for the most part.
Weaknesses:
Some aspects of this product are made some what cheaply and are destined to break before they should.
Reviewer:
michael d. from granbury, tx
User Details:
Used by a 66 year old male with chronic back issues to provide mobility outside the house.
06/15/2012
Strengths:
Construction, quality of materials
Weaknesses:
run flat tires, very hard to move on soft surfaces, Concrete or very hard surface still not as good as pneumatic tires.
Reviewer:
gilbert k. from coudersport, pa
User Details:
I'm 64 yrs of age, with spinal steneous lack of use of my legs