Lift 'n' Go
Ergonomic key switch location allows you to operate the lift while seated in your mobility unit.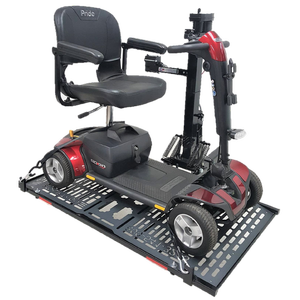 More Information on the Lift 'n' Go
BACK TO TOP
Reviews
Viewing 1 - 12 of 18
Excellent product, some nonfunctional features missing, due...
06/18/2022
Strengths:
Most economical way too load and transport scooter or powerchair.
Weaknesses:
Cannot use swing away option, while chair or scooter is loaded.
Reviewer:
boyd s. from cove, ar
User Details:
65 year old male with inclusion body myositis in a wheelchair 95% of the time can rise from chair and walk eight or ten steps on smooth, level ground.
03/14/2021
Strengths:
All steel construction.
Weaknesses:
The top of the motor has a crank connection that is open to the weather and needs to be sealed.
Reviewer:
earl l. from harmar, pa
User Details:
I am the person using the lift and I find it is a big help as I am not completely handicaped but have a hard time moving and walking.
10/30/2019
Strengths:
I had a problem. Got the run around from the manufacturer as the key boy needed to be exchanged. SpinLife CS stepped in any got everything corrected. I feel comfortable in buying anything from SpinLife! I give SpinLife 5 stars
Weaknesses:
Dealing with the dealer
Reviewer:
oscar g. from jacksonville, fl
User Details:
I use the lift for my scooter as I'm disabled
10/06/2018
Reviewer:
jane r. from gilford, nh
User Details:
77 years old with walking and standing disability
Lift works fine. My car struggles lifting my chair.
05/24/2017
Strengths:
Ease in strapping and lifting with switch.
Weaknesses:
You have to pull the platform to the lift when it reaches the top.
Reviewer:
judy m. from fayetteville, nc
User Details:
I am 58 yr old female with difficulty standing, bending & walking.
Does what it was designed to do.
02/03/2016
Strengths:
Easy to work with. no lifting at all.
Weaknesses:
Bounces a lot as you drive down the road, the tie down straps leave something to be desired. the chair can move on a rough road.
Reviewer:
martin p. from saint jacobs, il (caregiver)
12/05/2015
Strengths:
Electric operated
Weaknesses:
Works best on level ground
Reviewer:
lola s. from navarre, fl (caregiver)
User Details:
This is for use by my 79 year old husband with several disabilities. We ordered the Lift N Go with the swing a way arm. Works fine.
07/24/2015
Reviewer:
john j. from newport news, va
User Details:
80 YEAR OLD MALE, HEART PROBLEMS, KNEE PROBLEMS, BREATHING PROBLEMS, USE A CANE. 2 TRIPLE BYPASSES, NOTHING MORE CAN BE DONE TO CORRECT MY HEART, DIA
A good, well-made American product.
07/27/2014
Strengths:
The quality of the product -- it met my expectations in every way.
Reviewer:
jacqueline q. from wurtsboro, ny (caregiver)
User Details:
76 year old wife with severe leg and spine damage.
03/08/2014
Reviewer:
ernest r. from renssleair, ny
User Details:
Not provided
06/28/2013
Strengths:
Once installed, the lift is convenient to use providing the disabled person is not handicapped like me, because I cannot use my left side to help, so my 71 year old wife must strain herself to help, plus we had to pay someone to put it together, and install it, and the pin used to secure it to the hitch doesn't fit, it is a locking type, so we must drill the holes larger to install the locking pin.
Reviewer:
charles j. from port charlotte, fl
User Details:
Not provided
The product was fully assembled, all I had to do is insert...
12/07/2012
Strengths:
See Summary above
Weaknesses:
I think that some of the metals used could be substituted for a lighter metal to lighten up the load in the rear of the auto for one, the swing away assembly
Reviewer:
louis r. from ellerslie, ga
User Details:
Not provided