Lift 'n' Go
Ergonomic key switch location allows you to operate the lift while seated in your mobility unit.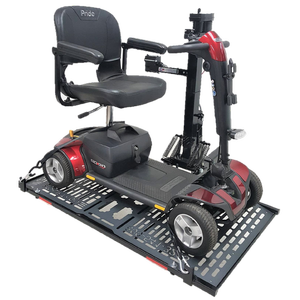 More Information on the Lift 'n' Go
BACK TO TOP
Reviews
Viewing 1 - 12 of 71
Should have got one three years ago!
08/01/2023
Strengths:
Lift'n' Go does everything it is supposed to do. GREAT!!!
Weaknesses:
Have any yet.
Reviewer:
earl e. p. from jesup, ga
User Details:
80 years old on oxygen 24 seven,can walk a little. I am able to load my scooter myself go shopping ,go home and unload the scooter. Lift 'n' Go works
Provides needed transport
03/12/2023
Strengths:
The swing away feature is critical for me. Easy to load and unload power wheelchair. Provides the needed transport capability.
Weaknesses:
Professional help is needed for assembly and installation. Impairs visibility from back up camera and function of backup proximity alarm. Permanent mounting increases weight and drag and thus reduces fuel efficiency when not in use. Tie down straps are difficult to use and release. Wobbles slightly and does not move in sync with the car.
Reviewer:
mike c. from frisco, tx (caregiver)
User Details:
User is my wife who cannot get up from a standard height chair because of nerve damage to her right quad. Uses walker at home and wheelchair out
12/11/2022
Strengths:
The ease of use is just what is needed by our veterans.
Weaknesses:
The motor could be a little stronger.
Reviewer:
gary l. from midlothian, va
User Details:
I am a 90% disabled military veteran who has a pacemaker, type 2 diabetes and have had 18 surgeries.
10/01/2022
Reviewer:
susan s. from mercer island, wa
User Details:
It does look great but I was lead to believe it would be put on my car. now I am having issues with finding a place to have it put on my car.
Recommended but Potential Buyer should read my full review
09/22/2022
Strengths:
The lift has a nice size platform and has plenty of room for my Pride Mobility Zero Turn 10 scooter. The lift seems well built and I am glad that I chose it. Installation was straight-forward.
Weaknesses:
I bought the optional license plate relocator kit. The manual said there was a 4-pin connector to connect the license plate light to the vehicle. The cable I got had a 2-pin connector. It does work.
Reviewer:
dave i. from fairfield, ca
User Details:
63-year male with pulmonary fibrosis, full-time oxygen user
Excellent product, some nonfunctional features missing, due...
06/18/2022
Strengths:
Most economical way too load and transport scooter or powerchair.
Weaknesses:
Cannot use swing away option, while chair or scooter is loaded.
Reviewer:
boyd s. from cove, ar
User Details:
65 year old male with inclusion body myositis in a wheelchair 95% of the time can rise from chair and walk eight or ten steps on smooth, level ground.
Easy to use, my nephew had it installed in less than an...
01/16/2022
Strengths:
Sturdy, well built, handles cart with no problems.
Weaknesses:
Would like to see an electric wheel lock vs tiedown straps.
Reviewer:
edward g. from jacksonville, ar
User Details:
I am a 78 year old with a physical disability and without the cart and lift would be inmobile.
08/21/2021
Strengths:
Ease of use, sturdy.
Reviewer:
donald g. from florien, la
User Details:
69 year old COPD post TB veteran, uses oxygen,SOB Under 150 lbs.
04/22/2021
Strengths:
Being able to do this on my own.
Weaknesses:
It shakes more while moving, and I have to use the cover on bad weather. That is difficult for me.
Reviewer:
ilene f. from webster, ny
User Details:
I have problems with my legs and back. This Lift'n'Go gave me the freedom to do for myself.
03/14/2021
Strengths:
All steel construction.
Weaknesses:
The top of the motor has a crank connection that is open to the weather and needs to be sealed.
Reviewer:
earl l. from harmar, pa
User Details:
I am the person using the lift and I find it is a big help as I am not completely handicaped but have a hard time moving and walking.
Great solution to using my scooter!
09/25/2020
Strengths:
Size, convenience
Weaknesses:
Haven't found one yet
Reviewer:
judy f. from vancouver, wa
User Details:
problems walking, arthritic joints
Works exactly as described.
03/17/2020
Strengths:
Well Engineered, Well Thought-Out
Reviewer:
robert h. from livingston, tx
User Details:
I am a 73 yo with COPD. As such I cannot walk any distance with out stopping to catch my breath. This is why my power chair carrier is required.