Comet 332 HD w/ Removable Armrests
While removable armrests provide full access to the 22.5" seating area, the aluminum frame keeps the Comet 332 HD's capacity high and its weight low.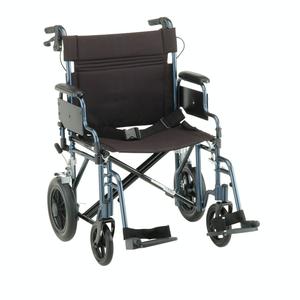 More Information on the Comet 332 HD w/ Removable Armrests
BACK TO TOP
Reviews
Viewing 1 - 12 of 113
Great product. Wish I could bave purchased a wider chair
09/02/2023
Strengths:
Removable armrests, overall quality
Weaknesses:
Wish it were a few more inches from floor to seat. Just due to my size.
Reviewer:
dean k. from winder, ga
User Details:
User loves the arm rests being able to allow shifting in and out of chair. His knees don't allow him to stand an pivot. 80 years old and arthritis
While the patient may be heavy, the chair itself is easy to...
06/17/2023
Strengths:
The ease in turning the wheels and maneuverability.
Weaknesses:
Maybe a "light sounded horn/beeper" to beep at people who seem to get in the way of the chair, because they are not paying attention.
Reviewer:
maria m. d. from chicago, il (caregiver)
User Details:
75 year old man 310 lbs. cannot walk, due to bone on bone knee pain, and swollen legs
A good product, except for the weight.
04/29/2023
Strengths:
Well made , sturdy
Weaknesses:
The chair is heavy and very difficult to maneuver when loading and uploading to the car.
Reviewer:
brenda h. from jersey shore, pa (caregiver)
User Details:
40 year old female with CP. Able to walk, but very unsteady on her feet.
12/10/2022
Reviewer:
theresa f. from abingdon, md
User Details:
Not provided
The only brand/style wheelchair I have used for the past 7...
07/06/2022
Strengths:
Allows for high weight limit, sturdy, attractive, removable leg rests, removable arm rests. Can be easily walked by user sitting in chair when a pusher is not needed (i.e. in the home).
Weaknesses:
I replace with a new chair each year because the seat stretches somewhat and the using of chair fulltime rubs the end of the material of the bars under where my legs rest.
Reviewer:
vicki w. from summerville, sc
User Details:
71 year old female who uses wheelchair because spinal stenosis, arthritis, and degenerative disc in lumbar region make walking very difficult.
It is extremely well made, and I love it!
06/04/2022
Strengths:
The width of the seat is extremely comfortable, the design is very sturdy and I like the anti tip over feature too, it's an overall really great product. I especially love that the sides are removable and reversible, which is such a smart design…
Weaknesses:
It crosses all the t's and dots all the i's, for me there are no weaknesses.
Reviewer:
lynn t. from staten island, ny
User Details:
I am 71 years old and have health issues that limit the amount of walking that I can do.
Lightweight & easily used & affordable
03/24/2022
Strengths:
Lightweight & easy to fold & unfold
Weaknesses:
Not the product, but, would like it to sit higher
Reviewer:
teresa m. from gatesville, tx (caregiver)
User Details:
I am the 60 year old wife who is responsible to taking this wheelchair into & out of the car for my husband. It is very easy & lightweight to use
03/12/2022
Weaknesses:
We do not need a seatbelt.
Reviewer:
joseph h. from hendersonville, nc (caregiver)
User Details:
Not provided
03/11/2022
Strengths:
The ease of handling and the maneuverability of the product. Its just a great product, and well worth the price.
Weaknesses:
I can not see any weaknesses
Reviewer:
david m. from centreville, md (caregiver)
User Details:
I purchased the Comet 332HD for my wife when we need to make doctor's visits. This was the best purchase I could have made.
I love the chair because it's comfortable, easy to fold up,...
08/28/2021
Strengths:
chair holds up to 400 lbs, not big and clumbsy looking and made with quality materials and I'm comfortable in it.
Weaknesses:
I've only had it a short time (2 months) but the few times I used it (with my daugher pushing me around) there weren't any problems at all. I highly recommend this chair.
Reviewer:
marie d. from methuen, ma
User Details:
76 years old, 5'2", 300 lbs and have mobility issues so mostly homebound for the past few years
Well built, light weight yet sturdy.
04/23/2021
Strengths:
Quality construction, light weight, perfectly sized for auto trunk, easy to maneuver.
Weaknesses:
Foot rests are fixed to frame, don't allow movement toward center. Patient feels like her legs are spread apart too much when her feet are on the rests.
Reviewer:
carole f. from scottsdale, az (caregiver)
User Details:
79 yr old woman, awaiting hip replacement, limited mobility
12/11/2020
Strengths:
light weight while sturdy
Weaknesses:
haven't found anything yet
Reviewer:
dottie k. from wooster, oh
User Details:
So far so good....I'm only in it when we are out...use a three wheel walker in the house...my husband is very pleased we got the Comet...lighter weigh