SuperLight with Carry Bag
At 18 pounds and with its own carry bag for over-the-shoulder convenience, the SuperLight is convenient, affordable, and made of durable aluminum.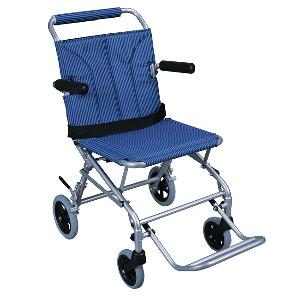 More Information on the SuperLight with Carry Bag
BACK TO TOP
Reviews
Viewing 1 - 1 of 1
Good chair, but does not fold as advertised.
05/26/2008
Strengths:
its size and weight
Weaknesses:
It is EXTREMELY difficult to fold the chair. Because this is advertised as a folding wheelchair, I cannot recommend it.
Reviewer:
kasey j. from baltimore, md (caregiver)
User Details:
82-year-old woman (my mom) with orthostatic hypotension, which makes her dizzy when she stands. She can sit upright and I push her in the chair.