Mariner Rehab Shower Commode Chair - 24" Wheels
24" wheels allow you to self-propel this shower wheelchair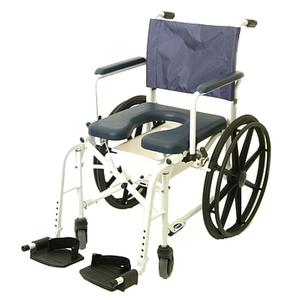 More Information on the Mariner Rehab Shower Commode Chair - 24" Wheels
BACK TO TOP
Reviews
Viewing 1 - 5 of 5
It is not well-made, is not sturdy, and has failing brakes.
09/02/2015
Strengths:
The arms fold back when transferring, which is why the chair was purchased. We didn't realize how bad the brakes are. So the purchaser truly is afraid every time she uses it.
Weaknesses:
The brakes are by far the worst. The chair is somewhat wobbly when moving; the hubcap came off after only one week. I think this chair is definitely defective!!!
Reviewer:
mary ann b. from friday harbor, wa
User Details:
A paraplegic woman who must transfer with a slide board. Brakes that hold are the most important aspect of this chair.
06/13/2013
Strengths:
The quality and design function are exactly what I need to use for my husband
Weaknesses:
The seat is TOO narrow - I am taking it to a machine shop to see if they can widen the arms out enough to accommodate him - I cannot find a product like this with a wider seat - the weight limit on this is 300 pounds - my husband is around 280 - his sitting and his inability to exercise have widened his body from the time that he was active - the shower chair will work perfectly if we can adapt the width.
Reviewer:
edwina e. from monroe, nc (caregiver)
User Details:
Age 70 - has Parkinson's Disease - unable to walk - confined to a power chair - also has osteoarthritis, diabetes, etc
08/28/2008
Strengths:
Ability to get wet.
Weaknesses:
Cheap construction, high cost compared to a quality, regular, wheelchair. Legs don't swing away, difficult removal.
Reviewer:
dan l. from denton, tx (caregiver)
User Details:
80 yrs old, recovering from Gullian Barre Syndrome, previously very active.
wheels too far to the rear, seat not soft enough, seat and...
07/03/2008
Strengths:
rust resistance, leg rest adjustments
Weaknesses:
wheels are to far to the rear for wheeling. Seat needs to be slightly slanted bacfk for stability, back could be slightly slanted back. Seat cusion coulb be softer and less slippery when wet with soap and water. Leg rest extend too far forward. 785-623-6792
Reviewer:
louis b. from codell, ks
User Details:
T-5 paraplegic --- 72 years of age, good physical condition.
Chair is not intended to roll over toilets.
02/07/2008
Strengths:
Good price compared to manufacturer price.
Weaknesses:
Chair is too narrow to fit over most toilets (14" wide). Also, the bucket sits in a wire cage beneath the seat. Both the seat and cage must be removed to roll over a toilet (even if it is a narrow toilet). This is not easily accomplished while someone is in the chair. I have an older model that works fine. I'm not sure why they changed the design.
Reviewer:
mark v. from el cajon, ca
User Details:
Quadriplegic due to C4-C5 Spinal Cord Injury.
Popular Related Products