Tracer SX5 Custom
Five seat widths to choose from including two with a 300 lb. weight capacity.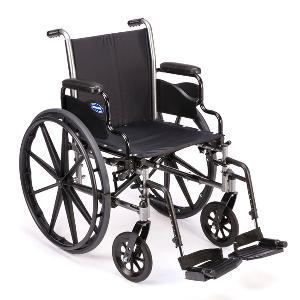 More Information on the Tracer SX5 Custom
BACK TO TOP
Reviews
Viewing 1 - 10 of 10
Some quality control issues, overall quite functional
10/01/2022
Strengths:
Rolls easily. Light enough to put in car trunk. Easy to push or for patient to move.
Weaknesses:
Clothing shield cracks in a couple of years. Vinyl arm pads cracks in a couple of years. Arm support sockets not a smooth snap-in. Brake adjustment could be much easier.
Reviewer:
bob g. from phoenix, md (caregiver)
User Details:
84 yo with arthritis, partial foot amputation, limited walking ability, diabetes
The features of this wheelchair are almost perfect.
05/16/2022
Strengths:
This wheelchair fits me well and makes me feel stable when moving around.
Weaknesses:
For me, the legs aren't what I expected. My feet don't reach the footplates and the legs aren't made for me to raise and lower them.
Reviewer:
brenda w. from williamston, nc
User Details:
I'm 58 years old with the birth defect spina bifida. Due to that, I'm a paraplegic and require a wheelchair.
02/25/2017
Weaknesses:
It is no different except it is wider.
Reviewer:
linda c. from curville, tx
User Details:
77 and can not walk.
She is not using it yet, she is not comfortable with its...
10/13/2016
Strengths:
East to lift arm rests.
Weaknesses:
Not really sure, she is not using it at this time. She is more comfortable in her old chair.
Reviewer:
daniel b. from salem, or (caregiver)
User Details:
My wife, 60 years old, MS.
Tracer SX5 Custom: Review
07/11/2014
Reviewer:
john h. from woodville, al
User Details:
Not provided
Selected based on previous experience but what we received...
04/04/2014
Strengths:
Chair itself is well made. Liked being able to choose features.
Weaknesses:
Measuring guide does not mention height of caregiver nor was it mentioned during ordering. Canes are too short causing stooping by person pushing. (daughter 5'9" husband 6'5"). Tried to exchange just the back and the canes told I had to return entire chair,(needed for trip concerned about time) tried contacting parts no answer. We bought to use when going distances (use rollator for short distances)but it is almost useless because of discomfort for person pushing) Elevated legs footrest not straight-have seen problem in older chairs at nursing center where I volunteer but not a new one. Break extensions don't stay on-had to duct tape-plan to drill and bolt or pin later. Recommend: not given option of Maybe (with cautions) so put NO PLEASE add height of caregiver to measuring guides.
Reviewer:
jane j. from sandy hook, va
User Details:
Age 69 Stroke Survivor, lack of balance and endurance
Tracer SX5 Custom: Review
08/11/2013
Strengths:
Locks tightly. Works well mechanically.
Weaknesses:
The seams along one arm is already coming apart. This is not acceptable after such a short usage time.
Reviewer:
gaye c. from kaneohe, hi (caregiver)
User Details:
Not provided
Tracer SX5 Custom: Review
03/11/2013
Weaknesses:
The 14" width was ordered with the belief that it would be easier for a 70 pound 4'5" eleven year old to maneuver the chair (arms not extended so wide). That turns out to not be the case as it is in fact harder to turn than a rented chair with 16" seat(also a Invacare). As I think about it there is less distance from wheel to wheel and less mechanical advantage when turning and I assume that is the reason why.
Reviewer:
jaime a. from council bluffs, ia
User Details:
Not provided
reasonable price for my preferred features
06/03/2011
Strengths:
lightweight, comfortable and easy to maneuver
Weaknesses:
Coming from the Philippines, I had imagined pneumatic tires to have an air valve to fill-in air when needed, not totally replace the whole thing. It takes time to order and your company do not accept international credit cards. I had to use my brother-in-law's when I bought my wheelchair last month when I was there.
Reviewer:
victorio p. from lakewood, ca
User Details:
I am 53 yrs old and had polio since I 1 year and 1/2. I was using crutches before but as I grow older, I couldn't handle walking long distance.
Affordable wheelchair for occasional use.
05/20/2009
Strengths:
Low price, but with the ability to choose some features.
Weaknesses:
Quality suffers slightly due to low cost.
Reviewer:
rebecca s. from waukesha, wi (caregiver)
User Details:
17 yr. old daughter is ambulatory, deafblind, and cognitively delayed, she uses the wheelchair in the community.