High Profile
Higher cells provide greater immersion which is best for those at a higher risk of skin breakdown.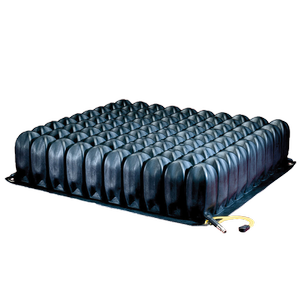 More Information on the High Profile
BACK TO TOP
Reviews
Viewing 1 - 12 of 354
10/27/2022
Strengths:
Works as intended and is very easy to keep clean.
Reviewer:
winslow l. from san clemente, ca
User Details:
Help to prevent pressure scores.
09/12/2022
Strengths:
Easy on your back & butt
Weaknesses:
Have to be very careful with the ROHO can puncture very easy!
Reviewer:
keith w. from bonita, ca
User Details:
66yrs old male paraplegic
Looking forward to buying the sensor for this cushion
06/22/2022
Strengths:
The sensor ready cushion is a great idea since it will take the guesswork out of the proper inflation level, once the manufacture of the sensors resumes after supply chain problems are resolved
Weaknesses:
There are no weaknesses. The wound doctor strongly recommended this product. and when I brought it to my appointment he inflated it to the proper pressure
Reviewer:
caroline c. from boston, ma
User Details:
Age 90. Wheelchair-bound. Sacral Wound.
06/03/2022
Strengths:
use for pressure soars
Reviewer:
will h. from midland, tx
User Details:
70 year old, MS
I am satisfied with the cushion.
03/14/2022
Strengths:
No pressure sores.
Reviewer:
patricia l. from white lake, wi
User Details:
Not provided
01/15/2022
Reviewer:
craig s. from sparks glencoe, md
User Details:
Not provided
11/03/2021
Strengths:
have used ROHO products for 7 years and have never had any flesh isseues.
Reviewer:
anthony m. from huntsville, al
User Details:
60 years wheelchair bound
08/12/2021
Reviewer:
deborah a. from catawba, sc (caregiver)
User Details:
quad using a power wheelchair
Good product used correctly will help prevent pressure...
06/06/2021
Strengths:
Help prevent pressure sore's etc.
Weaknesses:
years ago the cushions lasted longer 3-4 years, now lucky if I get 2 years before they start to leak, Just in time for the warranty to run out. Some leaks you can patch and others (base of a Cell) you Can not. So another 369.00 in 2 years you can almost plan on it. Thanks
Reviewer:
gary e. from elverson, pa
User Details:
40 Year paraplegic user of High Profile Roho cushions
05/23/2021
Strengths:
Contours to shape of posturior
Weaknesses:
None found to date.
Reviewer:
john m. from albany, ca
User Details:
Excellent product, works as advertised. I now have two of their products on desk and recliner.&
Comfort for pain in butt area.
03/14/2021
Strengths:
Being able to adjust air pressure for individual use for comfort. Removable washable cover. Overall comfort!
Weaknesses:
I haven't found any weakness of the ROHO cushion
Reviewer:
james e. from wichita, ks
User Details:
Male 66 215 lbs back and legs very poor condition resulting from accident. Works great for pain and pressure sores. Able to adjust air for comfort.
03/07/2021
Reviewer:
david r. from metuchen, nj
User Details:
Not provided