Quadtro Select High Profile
With four separate air quadrants and 4" high cells this cushion is great for users who require a significant amount of postural support.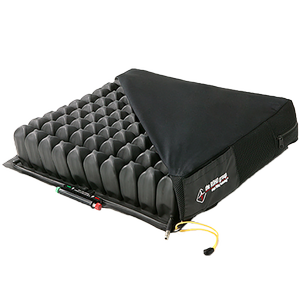 More Information on the Quadtro Select High Profile
BACK TO TOP
Reviews
Viewing 1 - 12 of 232
04/23/2023
Strengths:
like very much
Reviewer:
rigoberto a. from vista, ca
User Details:
like the product
04/20/2023
Strengths:
Very good pressure relief against pressure sores.
Weaknesses:
The rubber is prone to being pierced and over time dries out and can crack.
Reviewer:
tom m. from peabody, ma
User Details:
61 year old paraplegic.
The Quatro is the best cushion I've used.
04/02/2023
Strengths:
Reduces the chance of developing pressure sores. The Quatro model provides better stability when leaning over and for other upper body activities. In my experience they have been good about honoring the warranty
Weaknesses:
You must monitor the air pressure and refill every few days and operating the isolation valve can often be difficult and the newer fill valves can be tricky also. After about a year they usually begin developing leaks, so I try to keep a spare or two on hand. Repairing leaks isn't usually difficult but finding them is a pain.
Reviewer:
donald r. from englewood, co
User Details:
200# paraplegic male has been using these cushions for over 15 years.
03/22/2023
Strengths:
Quality of the product.
Weaknesses:
Hassel of trying to get warranty service. Once I got hold of the correct manager it went smoothly. Prior to that was very frustrating.
Reviewer:
wayne f. from deltona, fl
User Details:
86 year old with MS. Wheelchair bound, dependent on the ROHO cushion. It is a lifesaver I have 2, one for a spare in case of emergency.
Comfortable - No more Hot Seat
02/04/2023
Strengths:
Immediately noticed a temperature difference when I changed from the standard seat on my electric wheel chair, I no longer get friction and heat from sitting all day. Adjusts as I move and provides support when I sit for longer periods before standing up or using a walker for move around. Easy to use and inflate when air pressure declines with use. The cushion has been far better than many other options I have purchased in the past (Gel, Memory Foam, etc.). I am 350 lbs and product can hold up to 500 lbs, so that's good.
Weaknesses:
I had to use the repaid patches to stop leaks from the seems of the cushion within the first 4 weeks of using it. The process to find the leak was difficult as I had to submerse in the bath tub, while inflated, to find the small leaks. Had to re-order the patch kit. Most leaks are in the seams and not the rubber coils themselves (thank goodness). Can small like "rubber" at times and you hear the air moving as you shift in your seat. Have to add more air at least once a week, due to small air leaks. The inflation port could use some modernization to not leak out air when you are trying to close the valve after putting more air in. The cushion is far better than others I have had. Concerned with more air leaks and long term viability.
Reviewer:
harold b. from mansfield, ma
User Details:
Recovering from a spinal cord injury that left the right hip and leg paralyzed, needed a wheel chair. I sit nearly 10 hours a day as I work from home
08/19/2022
Strengths:
Quality made. Equalized pressure better than previous cushion.
Reviewer:
doug e. from dumas, tx
User Details:
68 year old T9 paraplegic. Purchased due to recent issues with pressure sore.
ROHO is the best cushion to prevent pressure sores
06/04/2022
Strengths:
Durability and easy to use
Reviewer:
lewis b. from merriam, ks
User Details:
Confined to the wheelchair
05/09/2022
Reviewer:
cindy u. from del rio, tx (caregiver)
User Details:
My son had a swimming accident broke his neck,this is the first time I had to replace it. Only problem we faced is the area where his hook is to loose
Good product how do you know when the pressure is set...
03/20/2022
Weaknesses:
Difficult to know the proper inflation. Even with online help is difficult to know how much pressure would be nice to have a pressure gauge of some type so you could use it as a reference
Reviewer:
michael b. from chattanooga, tn
User Details:
Paraplegic male with history of flap surgical to buttocks
I bought this so I could drive from it but cannot.
02/27/2022
Strengths:
elevates, swivels
Reviewer:
susan a. from destrehan, la
User Details:
I am the user, female, 63. I have MS. I cannot walk and spend my waken hours in the scooter.
prevents skin break downs
02/17/2022
Strengths:
well made, long-lasting, easy care
Reviewer:
diane b. from warren, oh (caregiver)
User Details:
My son has been wheelchair-bound for the last 15 years and we have used the RoHo line of seating since the start he has not had any skin issues.
Just need a little instructions
01/10/2022
Strengths:
Durability and the helpfulness from the company.
Weaknesses:
The lock for the quad air chambers is really hard to lock and unlock.
Reviewer:
george s. from marlborough, nh
User Details:
Hi my name is George, I've been disabled since 04 with a neurological disease rendering me wheelchair bond.