Jay Protector
Take your cushion with you with this body attaching sling that has a foam base and gel fluid pad.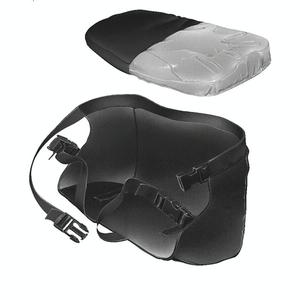 More Information on the Jay Protector
BACK TO TOP
Discontinued
This product is either discontinued by the manufacturer, or no longer available at SpinLife.com.
To find a comparable product at SpinLife.com, please
click here
or call our ProductExperts at 1-800-850-0335.
Need a Manual?
Reviews
Viewing 1 - 12 of 15
11/20/2022
Reviewer:
kathleen d. from stone mountain, ga (caregiver)
User Details:
This is a replacement item for my son. It is working out well!
As a paraplegic, I need to protect my bottom when not on a...
06/24/2021
Strengths:
This is "must have" equipment for an active paraplegic.
Weaknesses:
After about a year or two, the gel-pack eventually breaks and leaks. If it's not under warranty, I discard the gel-pack, replace it with a certain density of foam, and I'm good to go.
Reviewer:
michael w. from heber springs, ar
User Details:
I'm a T-12 paraplegic and use the Jay Protector while kayaking, scuba diving, working on my car, and anything else where I'm not in my wheelchair.
If you need to move on a hard surface you need one!
09/22/2020
Strengths:
It will protect your backside!
Weaknesses:
A little difficult to put on
Reviewer:
tim c. from wittmann, az
User Details:
70 yr old L1 para since 1980
01/15/2017
Strengths:
Protects his rear end when he climbs stairs.
Reviewer:
carol l. from eads, tn (caregiver)
User Details:
My son loves this cushion. He said its great when he has to climb stairs..
The difference between watching and doing, that is what...
07/20/2016
Strengths:
Ease of putting it on, how it stays in place during your movements, even holds up and on when using it on or near the water were it could and most often does, gets wet.
Weaknesses:
The gel portion of the cushion is poorly sealed and most often ends up leaking after a few years of use, if you are active it would be smart to have a backup just in case it starts leaking because trying to seal it back up is near impossible.
Reviewer:
carlo c. from pembroke, ma
User Details:
T2 complete for over 40 years, very active and sometimes need extra cushion. Find this product very useful.
09/13/2015
Strengths:
Because it's compact and waterproof, the Jay Protector is an ideal cushion for use in the shower. Good for protecting your posterior from potential pressure sores while sitting in a hard tub or shower stall.
Weaknesses:
Because it's so compact, it doesn't provide the same coverage as a full-sized seat cushion, so it shouldn't be used as your primary wheelchair cushion.
Reviewer:
jason f. from toluca lake, ca
User Details:
40-year-old male with Spina Bifida
Just exactly what I needed.
01/18/2015
Strengths:
Does the job. Relieves pressure, promotes good posture.
Weaknesses:
Comes in two pieces which are sometimes hard for me to manage. May be easier if it came as one.
Reviewer:
christine s. from milwaukee, wi
User Details:
Incomplete spinal cord injury. At risk for pressure sores.
12/05/2013
Strengths:
Well made. Flexible use.
Weaknesses:
Lack of sizes.
Reviewer:
alice h. from fredericksburg, tx
User Details:
SCI elderly woman
if someone wanted just to sit outside their chair maybe,...
03/10/2013
Strengths:
It is very well made and not too hard to use.
Weaknesses:
I bought it to use in conjunction with a slide board at the gym. It did not transfer well and got in my way every time.
Reviewer:
karen m. from north providence, ri
User Details:
age 49, c6-7 quad with beyond para capabilities.
helps with pain as well as excellent skin protection
04/23/2012
Strengths:
skin protection
Reviewer:
richard a. from west haven, ut
User Details:
I am a 49 year old, with a T12 SCI. I use the Jay Protector when I drive. It helps with pain as well as excellent skin protection .
03/09/2012
Reviewer:
scot m. from rocky mount, va
User Details:
T12 para. Use this to get on concrete floor and work. Also to get on tractor and zero turn mower . Works great.
A must have for the active gimp! Canoe/kayak, ATV, horse...
10/03/2008
Strengths:
Unique "speciality" cushion
Weaknesses:
Gel can freeze or harden at extreme temps.
Reviewer:
william b. from brandon, ms
User Details:
Active T-12/L1