Jay Protector
Take your cushion with you with this body attaching sling that has a foam base and gel fluid pad.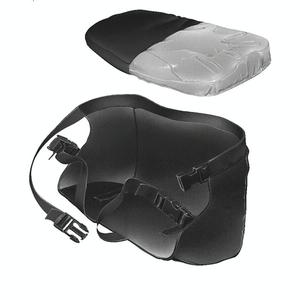 More Information on the Jay Protector
BACK TO TOP
Reviews
Viewing 1 - 3 of 3
The difference between watching and doing, that is what...
07/20/2016
Strengths:
Ease of putting it on, how it stays in place during your movements, even holds up and on when using it on or near the water were it could and most often does, gets wet.
Weaknesses:
The gel portion of the cushion is poorly sealed and most often ends up leaking after a few years of use, if you are active it would be smart to have a backup just in case it starts leaking because trying to seal it back up is near impossible.
Reviewer:
carlo c. from pembroke, ma
User Details:
T2 complete for over 40 years, very active and sometimes need extra cushion. Find this product very useful.
A must have for the active gimp! Canoe/kayak, ATV, horse...
10/03/2008
Strengths:
Unique "speciality" cushion
Weaknesses:
Gel can freeze or harden at extreme temps.
Reviewer:
william b. from brandon, ms
User Details:
Active T-12/L1
THE BUCKLE HAS ALREADY BROKE.
03/28/2007
Strengths:
IT DOES HELP PROTECT HIS SEAT.
Reviewer:
donald s. from manderson, wy (caregiver)
User Details:
Not provided