VivaLift! Radiance
NEW! Staying warm and comfortable with the Radiance since the heat comes standard.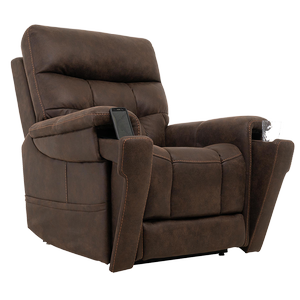 More Information on the VivaLift! Radiance
BACK TO TOP
Reviews
Viewing 1 - 12 of 21
09/08/2022
Strengths:
Heavy duty product for lifting heavy person
Reviewer:
rickey d. from winters, tx
User Details:
I am not able to lift myself from a sitting position. The VivAlift Radiance Infinite Lift Chair has made it possible without assistance. Love Chair
Great product, great delivery.
09/06/2022
Strengths:
This is one of the only chairs that comes in sizes. I'm tall and it's the only chair that fits my back well.
Reviewer:
keith l. from ponte vedra beach, fl
User Details:
Not provided
09/04/2022
Strengths:
The ability to set it in so many different positions.
Reviewer:
tim r. from lake havasu city, az
User Details:
This chair is incredibly comfortable. I have a fused lumbar 10 screws and this chair stretches me out. I'm 6'4' and its perfect.
08/15/2022
Strengths:
Powerful and relaxing.
Weaknesses:
Wish it had massage capabilities.
Reviewer:
larry s. from ridgecrest, ca
User Details:
76yr. old disabled Vietnam combat veteran. 6' - 1", 286lbs. Mobile but balance issues.
Great chair day or night.
07/28/2022
Strengths:
Comfort and ease of use.
Weaknesses:
Will let you know if I find any.
Reviewer:
karen d. from clinton, wa
User Details:
84 years young, actively traveling, maintain own home. Widow
Does what it's supposed to do. Not quite as comfy as I had...
06/24/2022
Strengths:
Very nice looking chair and the material is really nice. Put together very well.
Weaknesses:
I don't think the chair itself has weaknesses that I've found, however the issues I have are certainly due to my physical makeup. I find the lumbar area to be too much for my body. Other than that, the chair is just fine.
Reviewer:
sandy m. from lewiston, mi
User Details:
Age: 72, Two bad knees that don't allow me to get out of furniture easily.
Unit is very well constructed and comfortable to be in.
06/11/2022
Strengths:
Of all the features that this unit have I am most impressed by it's strong construction
Weaknesses:
If any problem I always like things to move faster
Reviewer:
lester h. from canal winchester, oh
User Details:
A Service Vet that is 100% disabled and wheelchair bound.
06/02/2022
Strengths:
Fabric is very durable and love the battery backup.
Weaknesses:
Could use more polyester stuffing in seat and back.
Reviewer:
roy t. from jacksonville, fl
User Details:
I'm almost 75 yo and have bought numerous Lazyboy chairs over the past 10 years and very disappointed in there lasting capability.
Pride is an excellent product that I highly recommend.
06/01/2022
Strengths:
Size (I am tall), separate head and foot motors, ease of operation and so many options.
Weaknesses:
After one month of use no weaknesses.
Reviewer:
jana p. from wickes, ar
User Details:
I am an almost 80 year old female with multiple medical problems. I purchased the Pride Radiance lift chair because of all the options available.
05/28/2022
Reviewer:
anthony c. from canton, oh
User Details:
Not provided
05/27/2022
Strengths:
The one feature that is really good is the heat. My wife is at the stage with her ALS she cramps, tightens up and her muscles draw. The heat helps to relax her muscles at times. The chair after breaking it in does become comfortable enough to sleep in.
Weaknesses:
The chair was hard on her back the first few week.
Reviewer:
jeffrey d. from honaker, va (caregiver)
User Details:
My wife has ALS and uses this chair to sit and sleep in.
The chair is too hard but looks nice.
05/25/2022
Weaknesses:
Too hard and uncomfortable.
Reviewer:
juliet l. from sussex, nj
User Details:
Not provided
Popular Related Products