VivaLift! Radiance
NEW! Staying warm and comfortable with the Radiance since the heat comes standard.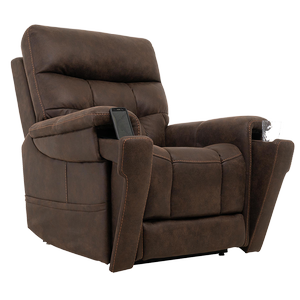 More Information on the VivaLift! Radiance
BACK TO TOP
Reviews
Viewing 1 - 12 of 43
Good quality for the price.
11/03/2023
Weaknesses:
Learning the remote not easy.
Reviewer:
richard g. from sun city west, az
User Details:
85 years old, difficult mobility issues
10/27/2023
Strengths:
Very supportive, easy to use, looks good, very comfortable.  The headrest adjustment is the BEST.
Reviewer:
frank p. from dunmore, pa
User Details:
Male, 72 years old. Injured from falling down stairs.  Trouble getting into sitting and standing position.
Love chair but cannot get memory buttons to work
10/10/2023
Strengths:
The infinity chair can be put in any position. Love the lumbar and heat settings
Weaknesses:
Haven't been able to follow the directions for setting up the two memory buttons. When I press them, they send the chair to the bottom and I am stretched out with my head slightly lower. They will not flash green to allow me to press one to set the position I like.
Reviewer:
barbara s. from austin, tx
User Details:
I have two bad knees along with blood clots in both legs. This results in a lot of pain but I cannot have surgery for new knees because of the clots.
This chair is everything I expected.
10/08/2023
Strengths:
The chair is so very comfortable and reclines very well. It is easy to operate. I love the heat in the lower back. It works very good. I ordered the chair for a taller person and it is just that. Back goes up nice and high for my head to rest comfortably. The seat area is nice and roomy. When I get on it I usually fall asleep watching TV because it is so comfortable. I am so happy I purchased this one. Customer service and white glove set up was very helpful. Also, the fabric of the chair was almost like a faux suede material. I ordered the walnut color and I am very happy with the fabric and color.
Weaknesses:
I have only had it for a few weeks and have not really noticed any weaknesses. I am very happy with this chair. I had white glove set up and I am glad I did. Unless you have a couple of strong men to set it up then you don't need white glove. It is a very heavy chair.
Reviewer:
nancy w. from detroit, mi
User Details:
I use this recliner for myself. I have a back and hip problem and it is very hard to get up from a sitting position. I am 75 years young.
The best chair I've ever owned!
09/28/2023
Strengths:
The ability to customize your comfort zone and the lower back heating pad is wonderful
Weaknesses:
I have not found one yet.
Reviewer:
lynda p. from duluth, mn
User Details:
63-year-old female with multiple sclerosis
quality, multifunctioned and comfortable
07/13/2023
Strengths:
quality of materials used, sturdy product for a large person to spend quite a bit of their day in. drink holder and phone charger are a great bonus. chair does not travel on hardwood floors as other chairs we've had.
Weaknesses:
we have only had this chair 5 days. So far, nothing is immediately negative.
Reviewer:
edwin k. from amissville, va (caregiver)
User Details:
88 yr large male with knee problems. difficulties with standing up
07/13/2023
Strengths:
Sturdy product. Works well. 
Reviewer:
janice e p. from lagrange, ga (caregiver)
User Details:
My husband has neuropathy in feet and has a hard time getting up and down. The lift chair makes it easier for him to get up.
Great chair. The remote is a blessing to use since my...
05/24/2023
Strengths:
Remote is the best feature for me.
Weaknesses:
No weaknesses in my opinion.
Reviewer:
carol b. from woodland, il
User Details:
Had stroke and limited use of right arm.
Very comfortable/versatile recliner w/heat and multiple...
05/19/2023
Strengths:
Separate controls for feet, back, head, and lumbar.
Reviewer:
randy y. from abilene, tx
User Details:
I'm a 69 year old man with sever back problems. I'm unable to rise from a standard recliner.
Feel seat space and length of footrest descriptions are...
05/11/2023
Strengths:
overall adequate product.
Weaknesses:
not as comfortable
Reviewer:
doris s. from bernalillo, nm
User Details:
84 year old senior with standing and other mobility issues.
05/03/2023
Strengths:
This is a well built chair that allows for my weight. Being able to adjust my head rest, lumbar area, legs and back is so needed. This chair is very comfortable in any position I have it. These are the strengths of this chair!
Weaknesses:
I have not found a weakness!
Reviewer:
susan w. from spencer, ia
User Details:
I am a 78 yr old female and suffer from CHF and PAH. I have trouble getting up from chairs and needed a chair that allows my feet to be above my heart
Love the chair but wish the leg rest was softer.
05/01/2023
Strengths:
Ease of use and back and neck comfort.
Weaknesses:
Hard leg rest
Reviewer:
deborah c. from north wilkesboro, nc
User Details:
66 year old person who weighs over 400lbs. with osteoarthritis and arthritis with extreme pain in knees and back.
Popular Related Products