VivaLift! Radiance
NEW! Staying warm and comfortable with the Radiance since the heat comes standard.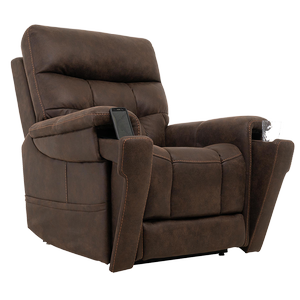 More Information on the VivaLift! Radiance
BACK TO TOP
Reviews
Viewing 1 - 8 of 8
Love the chair but wish the leg rest was softer.
05/01/2023
Strengths:
Ease of use and back and neck comfort.
Weaknesses:
Hard leg rest
Reviewer:
deborah c. from north wilkesboro, nc
User Details:
66 year old person who weighs over 400lbs. with osteoarthritis and arthritis with extreme pain in knees and back.
08/15/2022
Strengths:
Powerful and relaxing.
Weaknesses:
Wish it had massage capabilities.
Reviewer:
larry s. from ridgecrest, ca
User Details:
76yr. old disabled Vietnam combat veteran. 6' - 1", 286lbs. Mobile but balance issues.
Does what it's supposed to do. Not quite as comfy as I had...
06/24/2022
Strengths:
Very nice looking chair and the material is really nice. Put together very well.
Weaknesses:
I don't think the chair itself has weaknesses that I've found, however the issues I have are certainly due to my physical makeup. I find the lumbar area to be too much for my body. Other than that, the chair is just fine.
Reviewer:
sandy m. from lewiston, mi
User Details:
Age: 72, Two bad knees that don't allow me to get out of furniture easily.
05/27/2022
Strengths:
The one feature that is really good is the heat. My wife is at the stage with her ALS she cramps, tightens up and her muscles draw. The heat helps to relax her muscles at times. The chair after breaking it in does become comfortable enough to sleep in.
Weaknesses:
The chair was hard on her back the first few week.
Reviewer:
jeffrey d. from honaker, va (caregiver)
User Details:
My wife has ALS and uses this chair to sit and sleep in.
Great Chair, but needs a lot of wall space
05/13/2022
Strengths:
Comfort and ease of use
Weaknesses:
Chair requires a lot of wall space to use
Reviewer:
james g. from kansas city, ks (caregiver)
User Details:
Elderly woman that needs feet elevated and assistance getting out of the chair..
I like it but worried about the noise when gears are in...
02/14/2022
Reviewer:
mary lou a. from bennington, vt
User Details:
So far I like it. I did notice that one side of the chair rises and lowers a second or two before the other side. Plus there is a squeaking noise
still adjusting to new chair
02/11/2022
Strengths:
looks nice in our room need time to evaluate chair at this time
Reviewer:
jimmie k. from billings, mt
User Details:
Not provided
easy order, fast shipping, easy setup
01/07/2022
Strengths:
heavy duty large
Weaknesses:
footrest to short
Reviewer:
bobby r. from washington, il
User Details:
6'4", 300# 71yr old
Popular Related Products