iRide Folding Scooter
The Pride iRide is our lightest folding scooter and comes in four metallic colors.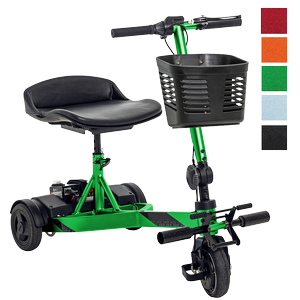 More Information on the iRide Folding Scooter
BACK TO TOP
Reviews
Viewing 1 - 6 of 6
07/07/2022
Reviewer:
christopher h. from perrysburg, oh (caregiver)
User Details:
Not provided
I love this scooter. It is really cute and easy to use.
03/18/2022
Strengths:
Excellent price and very attractive compared to other travel scooters I've looked at.
Weaknesses:
It is definitely designed for smooth surfaces. It is not good for uneven terrain as the wheels are small and there is very little clearance.
Reviewer:
sylvia b. from vancouver, wa
User Details:
I have muscular dystrophy and my legs are very weak and my balance is poor. I can no longer walk around the block.
Extremely happy with scooter
03/16/2022
Weaknesses:
No back on seat to give back support Front brake is a joke.
Reviewer:
sharon b. from newmarket, nh
User Details:
I am a 72 year old with idiopathic pulmonary fibrosis. Breathing is now assisted with equipment and I can not walk any distance. This gives me freedom
Very pleased with the simplicity and ease of operation of...
01/19/2022
Strengths:
I love the ease of transporting this scooter. It's compact, not too heavy for me to handle myself. My husband initially wanted to lift the scooter for me, but I wanted to be able to have the freedom of going out on my own, shopping etc.
Weaknesses:
This scooter is obviously not a high powered scooter. It is meant mostly for indoor use, does not handle on uneven terrain well.
Reviewer:
eugenia p. from dunmore, pa
User Details:
Age 70, female, rheumatoid arthritis. Difficulty walking any distance.
iRide Folding Scooter: Review
01/06/2022
Weaknesses:
Cannot back up
Reviewer:
carol k. from las cruces, nm
09/30/2020
Strengths:
Easy to assemble , use , and tranport
Weaknesses:
No front basket and reverse BUT, I can live with that!!!!
Reviewer:
judy a. from stockton, ks
User Details:
I am 79 years young and slowly losing the use of my legs due to both bone cancer and ostoperousis. As I small stature this is perfect at the time.