iRide Folding Scooter
The Pride iRide is our lightest folding scooter and comes in four metallic colors.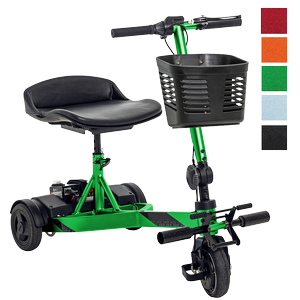 More Information on the iRide Folding Scooter
BACK TO TOP
Reviews
Viewing 1 - 12 of 15
07/07/2022
Reviewer:
christopher h. from perrysburg, oh (caregiver)
User Details:
Not provided
05/31/2022
Weaknesses:
Brakes hard to use Seat not comfortable
Reviewer:
cheri h. from dublin, ca
User Details:
Not provided
Purchased for weight. Ability to lift in and out of car by...
04/23/2022
Strengths:
Comes apart easily. Charging battery in or out of scooter is convenient.
Weaknesses:
No reverse. On/off button hard to get to. Could have an autobrake when shut off without using hand brake or engaging brake.
Reviewer:
jack r. from cape coral, fl
User Details:
82 year male.Crippled ,Rheumatoid arthritis in spine.Have used spitfire scooter for years.Bought new car ,no longer able to use lift for scooter
04/23/2022
Strengths:
Ease of use. Tight turning radius. Lightweight for mobility.
Weaknesses:
No reverse and no backrest.
Reviewer:
chris y. from pomfret, md
User Details:
49 year old with difficulty walking w/ MS.
04/04/2022
Strengths:
Easy to manuver. Light weight.
Weaknesses:
There is no reverse. You have to use your feet to back up.
Reviewer:
philomena c. from fullerton, ca
User Details:
I ordered this scooter in rasberry. I love it. I took it on an airplane. Riding through the terminal was a breeze.
Works well on tight spaces
03/25/2022
Strengths:
For me, the smaller width and turn radius is what I was looking for. Quality of product and price were important as well. The portability is a plus
Weaknesses:
I do miss the lack of a platform as I use it for transporting objects and my pet can't ride along. Having the basket option helps
Reviewer:
richard w. from new braunfels, tx
User Details:
74yo stroke survivor with left hemiparesis and left heminopia
I love this scooter. It is really cute and easy to use.
03/18/2022
Strengths:
Excellent price and very attractive compared to other travel scooters I've looked at.
Weaknesses:
It is definitely designed for smooth surfaces. It is not good for uneven terrain as the wheels are small and there is very little clearance.
Reviewer:
sylvia b. from vancouver, wa
User Details:
I have muscular dystrophy and my legs are very weak and my balance is poor. I can no longer walk around the block.
Extremely happy with scooter
03/16/2022
Weaknesses:
No back on seat to give back support Front brake is a joke.
Reviewer:
sharon b. from newmarket, nh
User Details:
I am a 72 year old with idiopathic pulmonary fibrosis. Breathing is now assisted with equipment and I can not walk any distance. This gives me freedom
Very slow if someone is walking with you or you need to get...
02/24/2022
Strengths:
I like the color choices and the aluminum frame.
Weaknesses:
It's SUPER slow and could be kinda heavy for some people. It dosen't have a key so if you park it anyone can come along and just take it.
Reviewer:
michael r. from north chesterfield, va
User Details:
45yr male user had a femur brake & has a hard time walking alot.I use it for car shows& shopping when needed Its not fast enough if someone is walki
Very pleased with the simplicity and ease of operation of...
01/19/2022
Strengths:
I love the ease of transporting this scooter. It's compact, not too heavy for me to handle myself. My husband initially wanted to lift the scooter for me, but I wanted to be able to have the freedom of going out on my own, shopping etc.
Weaknesses:
This scooter is obviously not a high powered scooter. It is meant mostly for indoor use, does not handle on uneven terrain well.
Reviewer:
eugenia p. from dunmore, pa
User Details:
Age 70, female, rheumatoid arthritis. Difficulty walking any distance.
iRide Folding Scooter: Review
01/15/2022
Reviewer:
linda m. from oak ridge, tn
User Details:
Not provided
iRide Folding Scooter: Review
01/06/2022
Weaknesses:
Cannot back up
Reviewer:
carol k. from las cruces, nm