Buzzaround EX Scooters
The EX is the speediest Buzzaround model yet - now with an even longer drive range!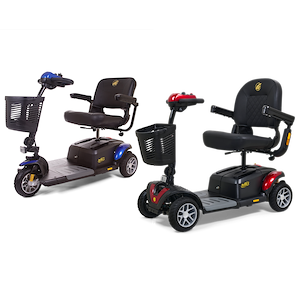 Golden Technologies
(Model No. GB118/GB148)
VIEW ITEM
More Information on the Buzzaround EX Scooters
BACK TO TOP
Reviews
Viewing 1 - 12 of 158
09/17/2023
Strengths:
The steering, the ease of use
Reviewer:
susan m. from sewell, nj
User Details:
Im 55 yrs young, I have COPD, arthritis in both my knees. 
Scooter is nice but the seat is a nightmare. I'm using my...
07/08/2023
Strengths:
Bigger tires and batteries on a easy to take apart scooter.
Weaknesses:
The seat is low quality and leans me so far back that the tiller has to be on my lap to reach it. There is something very wrong with this seat.
Reviewer:
bonnie m. from chillicothe, oh
User Details:
70 year old female. Unable to walk very far and have balance problems. I've been using mobility scooters for over 10 years.
05/08/2023
Strengths:
Excellent suspension, comfortable seat which turns 360 degrees. 
Weaknesses:
Some pieces are a bit heavy to load in the car. If you have a van then you don't need to take it apart you could just wheel it up a ramp. 
Reviewer:
alfred r. from port saint lucie, fl
User Details:
Great scooter. It is very comfortable, and the seat spins around which makes it easy to get in and out of the car.
Should be 6 inch shorter, like the one I rented before...
01/21/2023
Strengths:
Assembly for transport 
Weaknesses:
Seat back  does not follow contours 
Reviewer:
robert b. from needham, ma
User Details:
Person mover within a large retirement community getting from apartment to gym,dining rooms etc
Very happy with this product!
11/26/2022
Strengths:
It feels very safe to use and the suspension makes for a much smoother ride.
Weaknesses:
Easy enough to get the shrouds over the back tires off but the front on and one around the controls I haven't figured out yet but also haven't had much time to sit and try to figure it out.
Reviewer:
david m. from saint peters, mo (caregiver)
User Details:
She is actually my other half of going on 21 years now. She is 67 and on the heavy side but would kill me if I posted it here.
great scooter rides very nice only complaint is cell phone...
11/23/2022
Strengths:
easy assembly easy controls
Weaknesses:
need lighter weight batteries and a better cell phone holder
Reviewer:
david c. from goodrich, mi
User Details:
76 years old have copd can not walk any distance
What I need to get around. Very easy to
03/20/2020
Strengths:
Very easy to use.
Weaknesses:
For me, there are no weaknesses.
Reviewer:
deanna w. from indianapolis, il
User Details:
76yrs old, cannot walk any distance, painful legs and back
Everything it said would do it does, very fast, battery...
03/01/2020
Strengths:
Light package is sufficient, no weaknesses I can see.
Reviewer:
john l. from boca raton, fl
User Details:
severe back pain lightheaded mobility severly curtailed 56 years old male
Scooter is actually better quality than I expected.
02/20/2020
Weaknesses:
I will have to make sure the grass is cut so it will not overheat while I survey my property.
Reviewer:
diane n. from joshua, tx
User Details:
I am wheelchair bound and this has opened my world to the outside again around my property.
Does a great job, kinda heavy to take apart and reassemble
02/03/2020
Strengths:
Able to travel over gravel and dirt roads with ease, easy get on and get off.
Weaknesses:
Needs a better horn and having some issues with battery life. Wish it was less heavy but still as strong and travel distance not reduced.
Reviewer:
kurt r. from sunland, ca
User Details:
Male, age 69, 6'1'' weight 340. Club feet, Knee replacements. Some heart issues but active life and love camping and the outdoors.
If you need it, SpinLife is your go to person.
12/26/2019
Strengths:
The size, and ruggedness, for a big guy, like myself.
Weaknesses:
Slightly heavier than my last scooter, then again, so am i.
Reviewer:
garry b. from bradenton, fl
User Details:
I'm 74, arthritis in my back. This scooter is my second one bought from spin life. The other one was 12 years old. I went for the updated model.
Buzzaround EX Scooters: Review
12/04/2019
Reviewer:
charles w. from moravia, ny
User Details:
47 YEARS OIL HAD A STROKE NO USE OF RIGHT ARM LITTLE USE OF LEG
Popular Related Products