M41 Travel Scooter
Break-apart scooter with a 15 mile travel range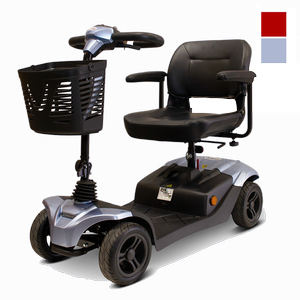 More Information on the M41 Travel Scooter
BACK TO TOP
Reviews
Viewing 1 - 12 of 16
02/02/2022
Strengths:
I cannot lift too much weight. The scooter comes apart to the point that I can get it all into the SUV with minimal effort.
Weaknesses:
We have not found any weaknesses. We added a padded seat for more comfort.
Reviewer:
tika e. from boca roton, fl (caregiver)
User Details:
My husband uses a walker around the house, however, he can only walk 200 or so feet. If we went out, I had to push a wheelchair.
11/04/2021
Strengths:
compact, goes 5 mph, light weight
Weaknesses:
ground clearance low, doesn't work in uncut grass or inclines well
Reviewer:
donald m. from louisville, ky
User Details:
Have neuropathy, diabetes, kidney disease, heart disease, a-fib, osterio arthritis high blood presser, skin cancer. Cannot walk very well, hands hurt
While othermakes have delays on shipping the M41 was...
08/26/2021
Strengths:
Appears to be solid and built well. Easy to assemble and disassemble. Good speed control and ground clearance.
Weaknesses:
The EWheels M41 mobility scooter does not have a tight turning radius. While not a product weakness their documentation could use some color and marketing improvement.
Reviewer:
richard h. from fair play, mo
User Details:
I am 76 year old have had a hip replacement and have lower back pain when I stand for 4 or 5 minutes or walk over 50 or 60 feet.
overall a fantastic scooter for the money
04/23/2021
Reviewer:
robert w. from las cruces, nm
User Details:
Male Veteran 73 yo with insulin dependent diabetes and poor kidney function. Also has inability to walk due to military back and knee injuries.
03/11/2021
Reviewer:
elsie m. from vineland, nj
User Details:
Getting around
Easy to use in buildings and outside
10/22/2020
Strengths:
It will get you where you need to go
Weaknesses:
None that I know of
Reviewer:
robbie b. from paintsville, ky
User Details:
Not provided
09/24/2020
Strengths:
First time I don't feel stuck at home... I am able to take a ride and enjoy nature trails. It also fits in the storage area of the RV!
Weaknesses:
So far I haven't found one.
Reviewer:
julie k. from broken arrow, ok
User Details:
I'm a 58 yr old lady that loves my scooter and wish I had bought two..one for my husband.
M41 Travel Scooter: Review
05/21/2020
Reviewer:
joyce a. from duluth, mn
User Details:
My Husband who just turned 70 last Friday, has a very bad back from an injury. I purchased the M41 Travel Scooter for that reason. He loves it.
03/26/2020
Weaknesses:
Heavy, hard to put together
Reviewer:
john b. from long beach, ca
User Details:
Not provided
02/01/2020
Strengths:
Ease of operation
Weaknesses:
Don't see any weaknesses.
Reviewer:
marian j. from sun prairie, wi
User Details:
92 year old female, distance walking is difficult
01/28/2020
Strengths:
It seems to be very strong and it has the ability to go a long ways. It carries me well, and gets me around. It has great posibilities for me and I like it. It goes well over grass and gravel.
Weaknesses:
It has a wide turning radius rather than a narrow or short turning radius makes it so that I have to back up and then go forward to turn around.
Reviewer:
rex m. from american fork, ut
User Details:
I am an older gentleman with bad knees and a heart condition so I am using my scooter to get around outside.
very happy can do more activity
09/06/2019
Strengths:
easy use of product
Weaknesses:
getting in and out of places at times
Reviewer:
carolyn b. from clinton, il
User Details:
73yrs,female,arthritis need assistance getting around
Popular Related Products