M41 Travel Scooter
Break-apart scooter with a 15 mile travel range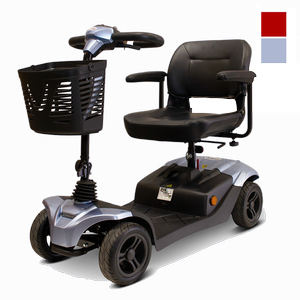 More Information on the M41 Travel Scooter
BACK TO TOP
Reviews
Viewing 1 - 8 of 8
06/04/2022
Strengths:
It comes apart so I can take it with me. Easy to drive.
Weaknesses:
Jumps into reverse, but that could be me.
Reviewer:
barbara r. from smyrna, de
User Details:
I am 82 years old, I have COPD , walking any distance is impossible. I also have a Burst Stimulator implant in back due to back problems that limit me
Good quality light weight scooter that has great speed and...
05/07/2022
Strengths:
Long battery life. Speed. Turning radius. Weight
Weaknesses:
Cant figure out how to break down to be lighter
Reviewer:
ellen h. from clermont, fl
User Details:
Still active woman who wants to enjoy the sights without being in pain.
Improvement of quality of life.
06/25/2021
Strengths:
Easy to assemble and dis-assemble making it easy and convenient for travel.
Weaknesses:
Given my height the length could have been a little longer.
Reviewer:
daniel v. from linden, nj
User Details:
52 yrs old diagnosed with MS causing weakness in the legs.
M41 Travel Scooter: Review
11/05/2020
Strengths:
Battery stays charged for a couple of days, very good
Weaknesses:
Horn too loud
Reviewer:
paul m. from yerington, nv
User Details:
Multiple sclerosis
Great produc exactly what we needed!
10/22/2020
Strengths:
Muanverabilty distance and speed.
Weaknesses:
Lack of ground clearance.
Reviewer:
sally s. from springfield, or (caregiver)
User Details:
My husband is my caregiver he uses it to go get the mail. i will use it to walk our dog also just been too cold. My husband loves it! I will also!
We chose this scooter because of the extra length and extra...
09/27/2020
Strengths:
Extra length. Extra maximum weight capability. 5 MPH speed. Long range use.
Weaknesses:
Front basket and basket mount could be a bit stronger.
Reviewer:
al c. from buffalo, mo (caregiver)
User Details:
56 y/o female with chronic back pain and unable to walk for more than 5 minutes.
it has a peace broken we it was shipped by the battery box
06/11/2020
Strengths:
It is good for what I use it for
Weaknesses:
I would like a bigger set
Reviewer:
garret k. from chariton, ia (caregiver)
User Details:
Not provided
03/12/2020
Weaknesses:
For me it could be a little longer in length
Reviewer:
bobby d. from denham springs, la
User Details:
Not provided
Popular Related Products