VivaLift! Legacy 2
Contoured backrest and seating with a power headrest and lumbar provide ultimate support and comfort.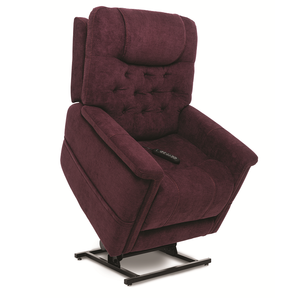 More Information on the VivaLift! Legacy 2
BACK TO TOP
Reviews
Viewing 1 - 9 of 9
Wonderful chair. Very comfortable and fabric looks good,...
08/22/2023
Strengths:
The greatest strength is that my husband is completely happy with this chair. It has made his life a great deal easer.
Weaknesses:
So far, we haven't encountered any problems.
Reviewer:
leonard w. from burton, tx (caregiver)
User Details:
We bought this wonderful chair for my husbands who has Parkinson's Disease. It has allowed him to lift out of the chair with ease.
09/25/2022
Reviewer:
johnny a. from lynwood, ca
User Details:
Not provided
Chair is comfortable and works well.
09/10/2022
Strengths:
Easily assembled, attractive, good size, simple operation.
Weaknesses:
Chair is heavy it tends to move out of place during use metal feet slide too easily would do well to have rubberized none skid foot pads on metal feet of chair so it doesn't slide .
Reviewer:
martha h. from west chester, pa (caregiver)
User Details:
Patient post ICU hospital stay of 30 days needs assistance during recovery period .
09/02/2022
Weaknesses:
Slow to get up if I need to go to the door.
Reviewer:
debra p. from garland, tx
User Details:
I am sixty-plus with a damaged left leg. I have to use a walker.
12/16/2021
Reviewer:
mary c. from holly ridge, nc
User Details:
I personally am thrilled with the chair. I am not thrilled on how it took to be delivered. Almost a week after it was picked up by delivery person.
Was very pleased with ease of use.
02/07/2021
Strengths:
The lift chair has so many possible positions.
Weaknesses:
We have not found any weaknesses yet.
Reviewer:
gary c. from decatur, il (caregiver)
User Details:
My wife has Multiple Sclerosis (so she has really poor balance) And she just had to have foot surgery.
01/30/2021
Strengths:
Sms to be made very well
Weaknesses:
for me a little big but I've made some adjustments (my last one was small this is medium)
Reviewer:
karen h. from north carver, ma
User Details:
Old (80) arthritic (knees shoulders back) Overweight.
Very happy with the chair
01/21/2021
Strengths:
Quality product and great customer service
Reviewer:
kelly b. from winterville, ga
User Details:
Elderly mother
The chair really solved the problem of her being able to...
06/13/2019
Strengths:
Easy to operate, looks good, quiet.
Weaknesses:
Only thing would be a hook near the arms to hang the controller or other device.
Reviewer:
walter n. from south lyon, mi (caregiver)
User Details:
Woman age 77 with copd,congestive heart failure, arthritis in knees. Difficult standing,limited mobility
Popular Related Products