VivaLift! Legacy 2
Contoured backrest and seating with a power headrest and lumbar provide ultimate support and comfort.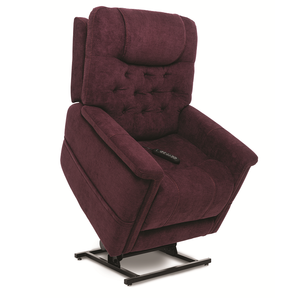 More Information on the VivaLift! Legacy 2
BACK TO TOP
Reviews
Viewing 1 - 12 of 20
09/25/2022
Reviewer:
johnny a. from lynwood, ca
User Details:
Not provided
Chair is comfortable and works well.
09/10/2022
Strengths:
Easily assembled, attractive, good size, simple operation.
Weaknesses:
Chair is heavy it tends to move out of place during use metal feet slide too easily would do well to have rubberized none skid foot pads on metal feet of chair so it doesn't slide .
Reviewer:
martha h. from west chester, pa (caregiver)
User Details:
Patient post ICU hospital stay of 30 days needs assistance during recovery period .
09/02/2022
Weaknesses:
Slow to get up if I need to go to the door.
Reviewer:
debra p. from garland, tx
User Details:
I am sixty-plus with a damaged left leg. I have to use a walker.
04/09/2022
Strengths:
Was easy to put together after fighting to get the box cut apart.
Weaknesses:
Where the back and seat come together there is a hump that pushes into the lower back causing much discomfort. So much so that it cannot be leaned back comfortably! The material on the chair is rather coarse/rough feeling.
Reviewer:
alberta m. from deming, nm
User Details:
85 yr old woman with bad knees looking for east in getting up from chair.
12/16/2021
Reviewer:
mary c. from holly ridge, nc
User Details:
I personally am thrilled with the chair. I am not thrilled on how it took to be delivered. Almost a week after it was picked up by delivery person.
Was very pleased with ease of use.
02/07/2021
Strengths:
The lift chair has so many possible positions.
Weaknesses:
We have not found any weaknesses yet.
Reviewer:
gary c. from decatur, il (caregiver)
User Details:
My wife has Multiple Sclerosis (so she has really poor balance) And she just had to have foot surgery.
01/30/2021
Strengths:
Sms to be made very well
Weaknesses:
for me a little big but I've made some adjustments (my last one was small this is medium)
Reviewer:
karen h. from north carver, ma
User Details:
Old (80) arthritic (knees shoulders back) Overweight.
Very happy with the chair
01/21/2021
Strengths:
Quality product and great customer service
Reviewer:
kelly b. from winterville, ga
User Details:
Elderly mother
10/30/2020
Reviewer:
nancy r. from hermitage, pa
User Details:
83 yrs old female enjoying the chair Not crazy about the fabric of the chair Our old spinlife chair is better. New chair doesn't have arm covers.
The lumbar and head adjustments are not smooth and don't...
07/02/2020
Strengths:
East of use, aid in getting out of chair, and is comfortable for sleeping in.
Weaknesses:
Uneven adjusting head and Lombard features
Reviewer:
jim b. from augusta, ar
User Details:
User is a 83 year old male with Lombard muscle pain. He can not lay flat in a bed and no room for a hospital type bed.
A well built sturdy chair.
06/20/2020
Strengths:
The recliner is a very stable product that doesn't feel cheaply made. Some lift chairs that I have had in the past had very little padding in the seat and back areas and you can feel the wood framing in places. Not this lift chair. Well built.
Weaknesses:
I wish the foot rest was one solid piece and would rise a little higher than it does. Also I was disappointed that that it doesn't recline totally flat like I thought it did.
Reviewer:
steven g. from pinckney, mi
User Details:
I am a 75 year old man that sometimes needs a little assistance getting out of my recliner especially after working on a project around the house.
Nice chair. Gets warm sitting in it
05/30/2020
Strengths:
Various features
Reviewer:
john g. from sparks, nv
User Details:
I have Primary Progressive Multiple Sclerosis.
Popular Related Products