VivaLift! Tranquil 2
Excellent support for your neck, shoulders, and lower back in a generously padded cozy chair.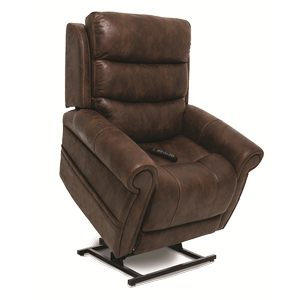 More Information on the VivaLift! Tranquil 2
BACK TO TOP
Reviews
Viewing 1 - 12 of 32
Is as advertised and described in product literature.
08/26/2022
Strengths:
The product is well made so I expect to have it for years to come. Is comfortable and is easy to use. I also like having the battery back-up in the event of a power outage.
Weaknesses:
Can't think of any weaknesses at this time.
Reviewer:
cindy b. from grand rapids, mi
User Details:
69 year old female, injury and surgery on both legs about 7 years ago. Uses cane and walker.
Lots of constant adjusting required.
07/03/2022
Strengths:
Well built, lots of adjustment options.
Weaknesses:
The fabric is very light in color, almost like a greyish white. Every time you raise the chair to get up all settings like the lumbar, headrest etc. powers back to neutral. More often than not, I forger to re-adjust the lumbar every time I sit down.
Reviewer:
joe c. from portage, mi
User Details:
Right side hemi due to MS.
06/28/2022
Weaknesses:
Chair is slow
Reviewer:
ron c. from morton, il
User Details:
Have trouble getting up and down in a chair.
the chair works as advertised.
06/03/2022
Weaknesses:
lumbar could be even more robust
Reviewer:
veron k. from smyrna, de
User Details:
I am a 70 year old with back problems.
05/22/2022
Strengths:
Easy to assemble
Reviewer:
barry v. from placerville, ca
User Details:
I'm 71 years old with 4 broken ribs and a crushed stamen. Using this chair lift it's great. They just dropped it off in the box and left.
03/09/2022
Weaknesses:
A little difficult to get use to coordinating controls.
Reviewer:
ron m. from puyallup, wa
User Details:
Not provided
If you like a hard mattress, this chair is for you !!!
02/18/2022
Strengths:
Easy to operate and seems to be good quality.
Weaknesses:
Wish it was a little softer and more comfortable. Also, the foot rest does not raise as high as I would have liked. I was hoping my feet/legs would be above my heart at a full reclining position. This chair falls a little short in that respect.
Reviewer:
thomas t. from new castle, pa
User Details:
I have balance and mobility issues and use a rollator walker.
Excellent quality and and great aadjustability
02/09/2022
Strengths:
Infinitely adjustable for comfort strong and comfortable. Great fabric
Weaknesses:
Not a weakness, just a feature I would like to have. I would like to see the ability to program in adjustments and save them for future use.
Reviewer:
george k. from bulls gap, tn
User Details:
74 YO male severe back & knee issues, balance issues as well.wheelchair user
reasonable price, works great for rest/sleep
02/02/2022
Strengths:
lays flat, headrest, Lombard and foot extension functions. comes in tall and large size, pricing
Weaknesses:
needs 100% more padding in the footrest. needs a guide to keep the control cable routed, centered and in place where required
Reviewer:
donnie w. from coralville, ia
User Details:
age 70, spinal issues, hip issues, can not sleep in a bed
VivaLift! Tranquil: Review
01/28/2022
Weaknesses:
seat a little high off floor when goes to set down. He is 6' tall , but chair doesn't feel completely comfortable yet.
Reviewer:
jenny o. from belton, tx (caregiver)
User Details:
He is 79 yr. old man that knees are bone to bone; has hard time getting comfortable enought to sleep. Cannot turn neck/head.
Does everything I expected
11/09/2021
Reviewer:
roxanne h. from new port richey, fl
User Details:
User is 93 years young and gets around with a walker. Needs back support as well as circulation boost from elevated legs
Excellent product (and service!) that has exceeded...
08/21/2021
Strengths:
The quality of workmanship and engineering. It is easy to operate and extremely comfortable.
Weaknesses:
I cannot think of one.
Reviewer:
tama p. from draper, ut (caregiver)
User Details:
Before getting his new chair, my 90 year old father could get out of a chair, or safely sit down without assistance from another individual.
Popular Related Products