Quickie Xenon
The performance feel of a rigid frame, but with all the portability of a folding one.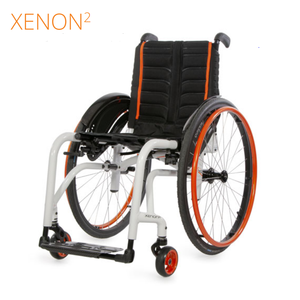 Sunrise / Quickie
(Model No. Xenon)
VIEW ITEM
More Information on the Quickie Xenon
BACK TO TOP
Reviews
Viewing 1 - 2 of 2
Superior customer service offered by JoAnn and SpinLife
04/10/2020
Strengths:
It is truly the smallest, lightest, and best designed folding manual available. I purchased my first Xenon from Europe and had it shipped stateside in 2013. That is now my back-up chair as I enjoy the weight and construction so much. A superior product!
Weaknesses:
I have not found any weaknesses with my second Xenon chair.
Reviewer:
allison p. from new kensington, pa
User Details:
53Y.O. FEMALE, T-10 PARA SINCE AGE 19.
Absolutely wonderful chair so far, very comfortable and...
02/02/2020
Strengths:
The chair is fully adjustable and ergonomically comfortable. Most aspects of the chair can be adjusted to fit the user perfectly. It is very rigid for a folding wheelchair.
Weaknesses:
It could be a little bit lighter.
Reviewer:
michelle p. from yorktown heights, ny
User Details:
I am a 49 year old female, L1 paraplegic, full time chair user.
Popular Related Products