Quickie Xenon 2
The performance feel of a rigid frame, but with all the portability of a folding one.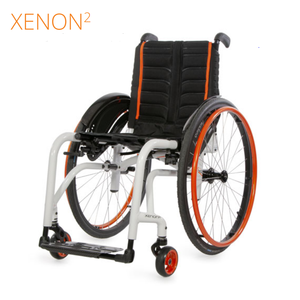 Sunrise / Quickie
(Model No. Xenon)
VIEW ITEM
More Information on the Quickie Xenon 2
BACK TO TOP
Reviews
Viewing 1 - 2 of 2
Excellent product EXCEPT 4 for Footplate options
08/10/2023
Strengths:
Design- EXTRAORDINARY ENGINEERING: weight, craftsmanship, design and portability.
Weaknesses:
The Foot plate options that fold to the side for transferring (and collapsing) are inadequate for me. Specifically, the side-folding plate is too narrow to allow for proper foot placement when in use. The fixed plate that collapses(bends in center for folding) is 10 1/2", the side folding plate is barely 7". The outside of my feet overhang. It forces me to place my feet too close together for my kness and hips to be properly placed.
Reviewer:
sarah e. from westcliffe, co
User Details:
65-yr-old female, w/relapsing-remitting MS for 36 yrs. I've got left leg drop foot. Avid swimmer, resistance-band strength training 3/days/wk.
Well made. My problems are mostly my fault due to choices...
03/03/2022
Strengths:
Sturdy. It's very adaptable, modular. All the options mount onto the main frame and can be moved around. Love the latch when folded. My 75-year-old husband can handle the chair easily.
Weaknesses:
The standard footrest is like a cow catcher sticking out in front. The edge of the seat is already fraying and my Roho cushion's Velcro will only latch onto one side of it. My chair is heavier than I hoped it would be.
Reviewer:
susan c. from westlake village, ca
User Details:
I am 77 years old, female, spina bifida L5-S1, been using a wheelchair for 6 years, cannot stand. THE CHAIR IS NOT RIGID - IT IS FOLDABLE
Popular Related Products