DayDreamer PowerPillow PR-632 with MaxiComfort
Golden has taken the DayDreamer PowerPillow lift chair to the next level of comfort by adding their exclusive Cloud seating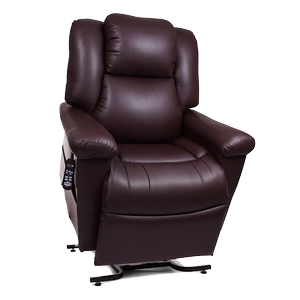 Golden Technologies
(Model No. PR-632)
VIEW ITEM
More Information on the DayDreamer PowerPillow PR-632 with MaxiComfort
BACK TO TOP
Reviews
Viewing 1 - 9 of 9
Easy for his caregivers to adjust.
01/09/2023
Strengths:
The head area can be adjusted to relieve his rigid neck area and the legs can be adjusted with a pillow to to help with the stiffness in his legs. It arrived in a timely manner and the person delivering it set it up so no one had to put it together which could have increased the time frame for him to use it.
Weaknesses:
Was not sure how the adjust both head and leg options into the tv mode.
Reviewer:
aggie f. from westminster, co (caregiver)
User Details:
I bought the chair for my husband and had it delivered to a veterans nursing home. He is 81 and has major mobility problems due to his MSA.
Lie down, stand up. Press a button to do either.
05/29/2020
Strengths:
Comfortable. Infinitely adjustable positioning. Nap time comes easy.
Weaknesses:
Intentionally left blank. I haven't one, yet.
Reviewer:
stephen t. from clayton, ca
User Details:
My legs have major issues. Rising from a chair without help, a major ordeal. With this chair, the press of a button gets me to a standing position.
It's exactly what I wanted. I am really enjoying it!!!
05/16/2020
Strengths:
It is very comfortable and easy to operate.
Reviewer:
thompsie f. from maryville, tn
User Details:
Not provided
Great product and sales staff
09/29/2018
Strengths:
It's quiet and easy to use
Weaknesses:
You should sell accessories such as cup holder for the armrest
Reviewer:
joel w. from ft lauderdale, fl (caregiver)
User Details:
Uses a walker and wheelchair
The chair is wonderful, and working with SpinLife has been...
05/11/2018
Strengths:
Very comfortable, very well built, and very easy to use.
Weaknesses:
I would love it if the headrest was also incorporated with the memory from the positions, but it is still great!
Reviewer:
julie t. from phoenix, az
User Details:
I am 75 years old, weigh 168 pounds, and I work out regularly.
Comfortable chair I use to both sit in and sleep in.
02/18/2018
Strengths:
Well made and comfortable.
Reviewer:
jerry s. from superior, wi
User Details:
I am a 58 year old, disabled, ex-railroader with a bad hip, purchased to alleviate legs.
I would recommend you but NOT your white glove service. ...
12/20/2017
Strengths:
Good Product but white glove service sucks. They seldom return calls and didn't call when they were two hours beyond delivery window. People my age need the white glove but I cannot recommend it.
Reviewer:
herb c. from brentwood, tn
User Details:
I am 81 years old and have had a Golden chair for 16 years. It has served me good.
Very comfortable and the pillow is adjustable!
10/06/2016
Strengths:
Infinity position, pillow is adjustable. She loves her Daydreamer Power Pillow PR630!
Reviewer:
doreen c. from glen allen, va (caregiver)
User Details:
My Mom has a bad right shoulder, 2 hips replaced, 2 knees replaced, and did I mention she is 90 yrs old.
Very comfortable chair with great features
03/10/2016
Strengths:
Love the electric adjusting head rest. Chair is very well padded in seat, back, headrest, arms.
Weaknesses:
No weakness to list.
Reviewer:
john d. from washington, pa
User Details:
Primary user is a Paraplegic.
Popular Related Products