DayDreamer PowerPillow PR-632 with MaxiComfort
Golden has taken the DayDreamer PowerPillow lift chair to the next level of comfort by adding their exclusive Cloud seating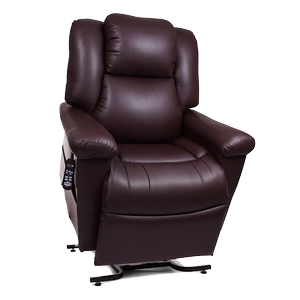 Golden Technologies
(Model No. PR-632)
VIEW ITEM
More Information on the DayDreamer PowerPillow PR-632 with MaxiComfort
BACK TO TOP
Reviews
Viewing 1 - 6 of 6
Nice chair and it appears to be well built.
08/26/2020
Strengths:
For the most part it's very comfortable.
Weaknesses:
The head rest forces my head forward and I have to tilt the chari back or it tends to hurt my neck.
Reviewer:
belinda f. from huntsville, al
User Details:
Chair used to help me get up more easily.
Material I chose is great - I hope it is durable.
03/23/2020
Strengths:
It is smooth and quiet with multiple positions.
Weaknesses:
There is no cup holder and the device to move the chair has to convenient place to rest when not in use.
Reviewer:
robert m. from savannah, ga
User Details:
77 year old man weighs 280 pounds and has. Spinal stenosis for 15 years. He spends about six hours per day in the chair.
05/24/2019
Strengths:
The Brisa fabric is great; quality of construction.
Weaknesses:
The chair doesn't sit you straight up or lift legs high enough.
Reviewer:
kathleen l. from hindsdale, nh
User Details:
This chair is used by a woman w/ MS who needs to elevate her feet & shift position regularly. The chair does not lift the legs higher than the heart.
Chair is of good quality, fabric is poor quality.
08/27/2018
Strengths:
Controls are lite-up clearly and the mechanics are smooth quality
Weaknesses:
The fabric already has of few small holes from the dogs getting into her lap. We have only had the chair set-up for two weeks, can't image what going to happen in one year. My mother tries to keep the chair cover with her blanket, but it don't always cover the entire chair. The fabric should hold-up with more quality for the cost of the chair.
Reviewer:
cindy b. from vail, az (caregiver)
User Details:
The user of the lift chair is my mother, she is unable to walk or send by herself, 85 years old.
DayDreamer PowerPillow PR-632 with MaxiComfort: Review
09/25/2016
Strengths:
Flexibality of the chair positions. Good looking and great color.
Weaknesses:
The pillow has too much padding, making your head look downward. I plan on taking some padding out.
Reviewer:
bill s. from willits, ca
User Details:
I'm a 76 year old man with some back pain.
04/02/2016
Strengths:
Nice controls they ere easy to use
Weaknesses:
Massage rattled badly if turned up very far. Padding was pretty skimpy for the price of chair. Foot rest and back rest are not totally independent, wanted back rest to stay in place while foot rest was adjusted and it would not do that.
Reviewer:
frank m. from aliquippa, pa
User Details:
Not provided
Popular Related Products