EW 19 / EW 20 Sporty
A fun scooter for transporting you, and a few of your favorite things.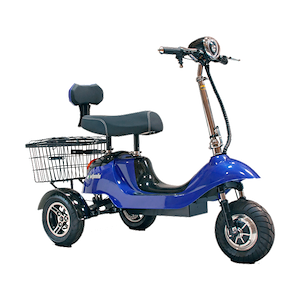 More Information on the EW 19 / EW 20 Sporty
BACK TO TOP
Reviews
Viewing 1 - 12 of 54
11/03/2023
Strengths:
Good looking, and responsive.
Weaknesses:
No rear view mirrors. Articles in basket, block taillight!
Reviewer:
neil d. from ventura, ca
User Details:
I am 91 years old. I have 2 bad knees. Otherwise, in pretty good health.
06/16/2023
Strengths:
VERY FAST GET TO WORK ON TIME,MY GRAND CHILDERN LOVE IT
Reviewer:
gregory s. from newark, nj
User Details:
Not provided
06/02/2023
Strengths:
It is very zippy and easy to maneuver and drive.
Weaknesses:
It would be nice if the seat adjusted to come back a bit for longer legs and the cover for the batteries.
Reviewer:
eric s. from boulder, co
User Details:
I am a 57-year-old woman with MS who doesn't have a good use of her legs, so this is nice to be able to go out with people on scooters or bikes
Pretty red. Goes a bit faster and further. Comfy, Safe
11/17/2022
Strengths:
Takes bumps well, I don't feel like I'm loosing control. Nice cushioned seat. Nifty storage basket with lid. Turn signals in the back and strong front light. Three wheels for balance, turns easily. Reasonably priced for all you get. I Feel safe on this scooter..
Weaknesses:
The turn lights are covered by the basket. No rear view mirror, didn't expect one. Can't think of anything else.
Reviewer:
debby b. from longview, wa
User Details:
Okay I'm 72 and quite able to walk around my home no longer drive and walking a long distance causes me pain. Worked hard all my life.
Outstanding product ease of use and quality material and...
10/25/2022
Strengths:
Additional features turn signals, headlamp, speedometer.
Weaknesses:
Size of storage.
Reviewer:
calvin g. from bellevue, wa (caregiver)
User Details:
My 94 year old father
Good scooter when working properly.
09/14/2022
Strengths:
easy to use for an elderly gentleman.
Weaknesses:
well currently needs new batteries but great when they work.
Reviewer:
charles m. from dallas, tx
User Details:
I love the scooter however I already need a tech to come look at my batteries. I originally assumed the charger was bad but its not charging at all.
05/06/2022
Weaknesses:
Won't go in gravel very easy
Reviewer:
sue k. from ripley, oh
User Details:
Not provided
03/05/2022
Weaknesses:
Hard to operate I weigh 230 will not go where I want
Reviewer:
anthony r. from independence, mo
User Details:
To go around the yard to do yard work Also it took a month to get this I think that is a little long
On the whole, the scooter is good and meets my needs
02/24/2022
Strengths:
It is good looking...sporty, I get a lot of compliments. it is easy to handle on level surfaces and in stores. I can drive to the store and drive right into the shop. The headlight is nice. The narrow design is practical.
Weaknesses:
Access to the battery is challenging. Narrow seat is uncomfortable. It rattles when riding over uneven surfaces. Does not go up small slopes unless in 2 and 3. The battery is poor to indicate when the battery is low. If too low, it will not go up slopes.
Reviewer:
sharron g. from na, fl
User Details:
I use the E19 scooter because I have a hip injury that prevents me from walking. I also stopped driving and use the scooter primarily to rein errands.
If If next time happened, I would choose the 4 wheel unit....
09/09/2021
Strengths:
I do not have any idea. Nothing to compare it with.
Weaknesses:
An arm that could be lifted I believe would be easier than the swivel release, for turning, under the seat.
Reviewer:
gustav s. from red hook, ny
User Details:
I am 90 yrs. old and bought this unit for the additional mobility as my leg movement decreased.
07/19/2021
Weaknesses:
loose bolts would like rear view mirror
Reviewer:
elden v. from falls city, ne
User Details:
age 80 bought it for fun and to take camping so far it has been better than ex \expect has great power and speed and the batteries run it a long time
EW 19 / EW 20 Sporty: Review
04/22/2021
Reviewer:
colin k. from kissimmee, fl
User Details:
Not provided