EW 19 / EW 20 Sporty
A fun scooter for transporting you, and a few of your favorite things.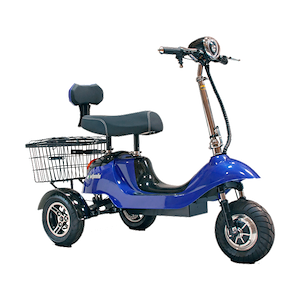 More Information on the EW 19 / EW 20 Sporty
BACK TO TOP
Reviews
Viewing 1 - 12 of 14
Good scooter when working properly.
09/14/2022
Strengths:
easy to use for an elderly gentleman.
Weaknesses:
well currently needs new batteries but great when they work.
Reviewer:
charles m. from dallas, tx
User Details:
I love the scooter however I already need a tech to come look at my batteries. I originally assumed the charger was bad but its not charging at all.
If If next time happened, I would choose the 4 wheel unit....
09/09/2021
Strengths:
I do not have any idea. Nothing to compare it with.
Weaknesses:
An arm that could be lifted I believe would be easier than the swivel release, for turning, under the seat.
Reviewer:
gustav s. from red hook, ny
User Details:
I am 90 yrs. old and bought this unit for the additional mobility as my leg movement decreased.
07/19/2021
Weaknesses:
loose bolts would like rear view mirror
Reviewer:
elden v. from falls city, ne
User Details:
age 80 bought it for fun and to take camping so far it has been better than ex \expect has great power and speed and the batteries run it a long time
EW 19 / EW 20 Sporty: Review
04/05/2021
Strengths:
Speed love the tail lights sound when the blinkers are on
Weaknesses:
Kinda wobbly and and the annoying beeping
Reviewer:
elizabeth s. from blythe, ca
User Details:
It's fun seat a bit wonky kinda scary for me anyway
SEND E A STICKER FOR SPINLIFE TO PUTON. THE SCOOTER AS PEO...
02/24/2021
Strengths:
CUTE AND SPORTY has everything EXCEPT. REAR VIEW MIRRORS111111
Weaknesses:
Seat height is tooo high for center of gravity so it wobbles a lot
Reviewer:
ross b t. from palm springs, ca
User Details:
83 years old , difficulty breathing so walking to the store gets difficult. The scooter is great, BUT THE BIGGEST PROBLE IS LOUD SQEEK FROM REAR END
Soft suspension feels unstable .
10/09/2020
Weaknesses:
To short for legs , ok for a midget . Suspension too soft
Reviewer:
robert d. from new palestine, in
User Details:
I need it to go on trails in our state parks. ....
Good Machine but, it has it's flaws Batteries go down fast
09/21/2020
Strengths:
Road travels like it gives it's all tires are good with smooth surface
Weaknesses:
With the height ground clearance 7+" it not good on grass or gravel it's weak performance not good, SOME OTHER VEHICLE WOULD DO BETTER
Reviewer:
glen w. from wautuma, wi
User Details:
I'm 81 years old good health. It's a nice machine, Fast but tippy use with some sense, I wish I would have got a 4 wheeler instead. Quality Very good
So far I am extremely happy with the ew20.
08/13/2020
Strengths:
Speed, and distance on single charge.
Weaknesses:
Pretty much restricted to smooth hard surfaces.
Reviewer:
orange d. from albany, or
User Details:
Serves the 00purpose that I purchased it for. It is used entirely for walking my service dog. He's able to travel at a speed he like.
Would strongly recommend to anyone with limited disability
08/08/2020
Strengths:
Very well put together
Weaknesses:
Seat hight adjustments difficult for average person
Reviewer:
leonid d. from dothan, al
User Details:
Not provided
Fast, Easy to use, well made for the price
02/16/2020
Strengths:
Fast, Easy to use and operate, comes fully assemble, well made and a good value for the price.
Weaknesses:
The type of tires should be an option from turf tires or tires with tread. Turf tires are useless in wet weather - I had to push the scooter up my drive way since the blacktop surface was wet.
Reviewer:
roy h. from albany, ny
User Details:
Male, Age 61, Disable - can only walk short distance
I wish it had a larger basket.
08/25/2019
Strengths:
Speed and turning radius.
Weaknesses:
I wish it had larger foot rests and a bigger basket.
Reviewer:
kenneth c. from arlington, tx
User Details:
I am a 71 year old quad. Vietnam veteran .I was told I would never walk again I am walking not well but trying. I live alone needed a way to get to
Was a little bigger than expected from picture but I like...
07/26/2019
Strengths:
Lasts a long time, E-Wheels go forever. I have had 2 E-Wheel tricycles for 5 years now. The E-Wheels have shown me they are dependable and long lasting.
Weaknesses:
Haven't used enough to say
Reviewer:
deborah s. from stockton, ca
User Details:
Theodore can.