9000 SL
Great chair full of features and available in four frame colors to fit your unique style.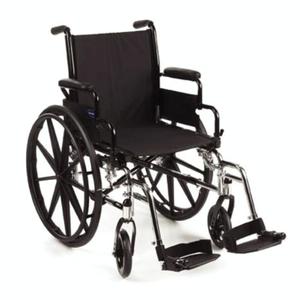 More Information on the 9000 SL
BACK TO TOP
Reviews
Viewing 1 - 6 of 6
Very good replacement for her old chairs.
03/25/2020
Strengths:
Solid and strong.
Weaknesses:
Foot rests are difficult to remove.
Reviewer:
stephen g. from cortland, ny (caregiver)
User Details:
68 year old female with MS
The quality of my five year old 9000 SL is better than my...
09/09/2015
Strengths:
It is light-weight and makes it easy to get around.
Weaknesses:
The front wheels split after two weeks of use. It is also difficult to lock the left leg lift; I have to use force to lock it or it swings out.
Reviewer:
paula c. from bear, de
User Details:
I am a 68 year old female and I have been confined to a wheelchair for 5 years.
seat and back sag and are not supportive
08/15/2012
Weaknesses:
the seat sags and i threw away the box so i couldn't return it--very disappointed
Reviewer:
gina r. from tampa, fl
rolls ok on hard surface but not on carpet.
05/26/2012
Strengths:
Seat comfort, light weight.
Weaknesses:
Ours was assembled badly. As received, one front wheel was tightened too much and would not roll freely. I loosened it and it works much better. Took a while to figure out this problem which affected use of the chair a lot. We bought this model base on using one in the rehab center but the design has been changed. It has been cheapened up and doesn't work as well as the older one. The design of the brakes and handles is much worse now and it much harder to use.
Reviewer:
john b. from garden grove, ca (caregiver)
User Details:
71 year old woman with broken hip.
09/17/2011
Strengths:
Comfortable & easy to lift.
Weaknesses:
Already needs an adjustment. One wheel rubs against body of chair. Will take to authorized dealer locally. Hope warranty covers this. Hand brake tips are hard on hands.
Reviewer:
yvonne m. from waukesha, wi (caregiver)
User Details:
76 year old male with brain injury.
12/27/2007
Reviewer:
thomas s. from pascagoula, ms
User Details:
71years 9ld, neouropathy,