Zero Turn 8
Zero Turn Technology creates 4-Wheel Stability with 3-Wheel Maneuverability.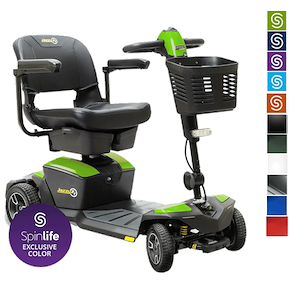 More Information on the Zero Turn 8
BACK TO TOP
Reviews
Viewing 1 - 12 of 50
Good product but expensive
09/07/2023
Strengths:
Easy to use and turn
Reviewer:
barbara s. from hendersonville, nc
User Details:
Not provided
07/08/2023
Reviewer:
marilyn m. from fredericksburg, va
User Details:
Not provided
Need one with larger wheels.
06/22/2023
Weaknesses:
Not made for uneven areas and my legs are to long
Reviewer:
carol. e. s. from bristol, ri
User Details:
I have MS and find it difficult to get around.
Much improved and better maneuverability than my 2015 model...
05/15/2023
Strengths:
Turning radius and battery life between charges.
Weaknesses:
Haven't found any yet.
Reviewer:
william k. from washington, ut (caregiver)
User Details:
74 yr old female with back and hip issues. Very short on breath when walking short distances.
The battery or charger has failed and I can go a max of 500...
05/11/2023
Strengths:
The short turning radius. Everything will be great if I get fast service on the battery/charger problem. It charges 12 hours every night and the blinking light on the charger never stops blinking as it should per service technician James Olson. I do not want to be without the use of the scooter because of a total failure. It will take me awhile longer to get used to riding instead of walking but that is my problem. I receive nothing but comments on it. Thank you.
Weaknesses:
I could not find a detailed description of how the battery charger functions and what the function of the lights on the charger. For Example : is such as how do I tell when the battery is fully charged.
Reviewer:
bill b. from mt angel, or
User Details:
I was recently advised that I have suffered serious nerve damage to my right side. I use the scooter when I leave my apartment.
Works as advertised with exception that it's only going...
05/01/2023
Strengths:
It's fun and extends my capabilities.
Reviewer:
grady c. from honolulu, hi
User Details:
I have Chronic Fatigue Syndrome.
11/03/2022
Strengths:
Zero turn, being able to charge the battery on the scooter.
Weaknesses:
I really haven't come across any weaknesses.
Reviewer:
kimberly w. from mosinee, wi
User Details:
I am a 50 year old female with MS and this scooter is my legs and freedom. I am able to take my dog for walks, go shopping and stuff with family .
I absolutely LOVE my Zero Turn 8!
10/27/2022
Strengths:
This Scooter (Zero Turn 8) is a Quality Made Product, very stable, extremely comfortable and beautiful to look at, well designed with just enough color  and lighting in all the right places. 
Weaknesses:
Honestly can say I have NOT found any weaknesses.  I just keep finding great features like a horn, a switch to turn all the lights on or off while driving and the ease of getting on or off the scooter itself.  As I said earlier I love this little but powerful scooter and I mean it  
Reviewer:
vicki w. from omaha, ne
User Details:
I am turning 74 years of age and needed help walking because of shortness of breath inside and outside.  
The is the second Zero Turn 8 scooter we have bought. My...
09/17/2022
Strengths:
The zero turn ability and the size are great. The seat is comfortable. They both will fit side by side in our Subaru Forester.
Weaknesses:
The velcro does not hold some of the bezel accent plates on. Some of them will fall off when when you hit a bump. I had to attach them with double sided tape.
Reviewer:
donald r. from san antonio, tx
User Details:
I am a 67 year old male with a broken vertebrae and two bad hips that won't allow mw to walk very far without severe pain.
06/27/2022
Strengths:
Very comfortable
Weaknesses:
I have not found any weaknesses
Reviewer:
sherri p. from lander, wy
User Details:
Hi I'm 61 yes old and have MS I was diagnosed in the year 2000. My new scooter has already changed my life for the better.
06/22/2022
Reviewer:
max e. from dallas, tx
User Details:
Not provided
06/08/2022
Reviewer:
michael n. from allen, tx (caregiver)
User Details:
Not provided