Zero Turn 8
Zero Turn Technology creates 4-Wheel Stability with 3-Wheel Maneuverability.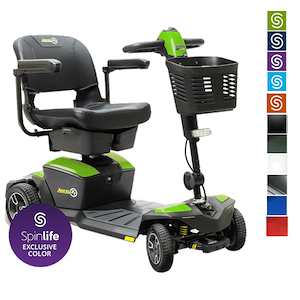 More Information on the Zero Turn 8
BACK TO TOP
Reviews
Viewing 1 - 12 of 42
The is the second Zero Turn 8 scooter we have bought. My...
09/17/2022
Strengths:
The zero turn ability and the size are great. The seat is comfortable. They both will fit side by side in our Subaru Forester.
Weaknesses:
The velcro does not hold some of the bezel accent plates on. Some of them will fall off when when you hit a bump. I had to attach them with double sided tape.
Reviewer:
donald r. from san antonio, tx
User Details:
I am a 67 year old male with a broken vertebrae and two bad hips that won't allow mw to walk very far without severe pain.
06/27/2022
Strengths:
Very comfortable
Weaknesses:
I have not found any weaknesses
Reviewer:
sherri p. from lander, wy
User Details:
Hi I'm 61 yes old and have MS I was diagnosed in the year 2000. My new scooter has already changed my life for the better.
06/22/2022
Reviewer:
max e. from dallas, tx
User Details:
Not provided
06/08/2022
Reviewer:
michael n. from allen, tx (caregiver)
User Details:
Not provided
NOW I CAN GET AROUND SO MUCH EASIER.
08/31/2021
Strengths:
THE SMALL RADIUS IS THE MAIN REASON I CHOSE THIS SCOOTER. I CAN GET THRU THE HOUSE WITHOUT PROBLEMS. GETTING IN AND OUT IS EASIER THAN I THOUGHT IT WOULD BE. A CHARGE LASTS ME FOR DAYS. SEAT AND BACK IS COMFORTABLE. NOT THAT MUCH FOOT ROOM BUT MY HUSBAND MOVED THE SEAT BACK SO I FIT BETTER.
Weaknesses:
ONLY TWO. THE FRONT BASKET IS WAY TOO SMALL. THE COLOR PURPLE I CHOSE IS NOT THE SAME AS WHAT I RECEIVED. BOTH THE CATALOG AND WEBSITE SHOW AN AMETHYST SHADE OF PURPLE, WHICH IS MY FAVORITE COLOR. I RECEIVED A DARK PURPLE THAT IS NOT VERY PRETTY AT ALL. NOTHING OTHER THAN THESE TWO THINGS. EVERYTHING ELSE IS GREAT.
Reviewer:
connie s. from hurricane, ut
User Details:
USER IS A 74 YR. OLD FEMALE WITH HIP AND KNEE PROBLEMS. THEY KEEP HER FROM WALKING WITHOUT A WALKER AND THAT IS ONLY FOR VERY SHORT DISTANCES.
It met expectations for a zero turn 4 wheel scooter to...
08/29/2021
Strengths:
The zero turn feature is great for elevators and restrooms. It is much more stable than her three wheel scooter..
Weaknesses:
It is much heavier and longer than her previous three wheel scooter. The added size and weight gel make it much more stable and are a benefit when she uses public transportation- which she does, frequently. I notice the added length and weight when I put it in the back of the car. The good news is that it can be easily disassembled - the heaviest pieces are still pretty heavy.
Reviewer:
todd d. from red lion, pa (caregiver)
User Details:
We purchased this for my wife who has very limited mobility due to MS.
Nimble but quirky steering in tight turns
07/12/2021
Strengths:
Turning radius, power
Weaknesses:
Quirky steering in tight turns
Reviewer:
steve t. from fernandina beach, fl
User Details:
69 yo male with cidp
Unit is well made, many featured, smooth riding on firm...
06/16/2021
Strengths:
Lights, 4 whl suspension, low turn radius, can be easily disassembled, heavy duty construction, delta ring steering.
Weaknesses:
Front wheels should be same diameter as rear (9 or 10 inches) for smoother ride and greater clearance on grassy areas.
Reviewer:
robert l. from jackson, wi
User Details:
Owner: 88 yr old male unable to walk distances with low back pain and balance issues; 226 lbs.
Nailed it. the last model 6 year old loved it to. This just...
06/10/2021
Strengths:
Dual Moters. Bigger diameter wheels. Zero turn BIG PLUSE! Lights. Boots that cover the brakes on back of moters. Battery charger. Came in purple he favorite color.
Weaknesses:
Wish the wheels on front were the same diameter as back. I have found over the years wheel size matters in mobility. The smallest bump at an any little angle will rip the tiller out of her hands. Still a big improvement.
Reviewer:
keith s. from grant, ne (caregiver)
User Details:
She. Cerebral palsy. Four limb minimal mussel and control.
05/15/2021
Strengths:
easy to use and works good on grass too.
Weaknesses:
It is a little to long to go into our bedrooms in the house.38 " would have worked better.
Reviewer:
lawrence g. from hampshire, il
User Details:
I am 73 and disabled I really like the zero turn scooter.
We are very impressed with the overall performance of this...
03/27/2021
Strengths:
For flat, hard terrain and floors without throw rugs, this machine suits our needs very well. My wife absolutely loves it and doesn't feel like she's an invalid driving it sense it is so good looking.
Weaknesses:
My goal was for my wife to go places on her own. I bought a nice tote with ramp for it; but, the anti-tilt wheels cannot be adjusted and I wound up buying a mobility chair and modified it to accomplish this goal and to use inside our home. If I had known this before purchasing the zero-turn, I wouldn't have gotten it. However, it is difficult to buy one unit to accomplish all desired needs. A third unit for off-road use may be needed as well.
Reviewer:
edward e. from tbd, mo
User Details:
My wife has bilateral total knee replacements and severe scoliosis with loss of her 5th lumbar vertebrate due to osteomyelitis.
great chair, easy to use, fits in everywhere.
12/02/2020
Strengths:
small size, turning radius, battery life
Weaknesses:
not aware of any weakness
Reviewer:
nan k. from gastonia, nc (caregiver)
User Details:
My dad is 95, has almost no use of his legs except to transfer from bed to scooter to toilet to scooter to recliner chair, and is very pleased .