Zero Turn 8
Zero Turn Technology creates 4-Wheel Stability with 3-Wheel Maneuverability.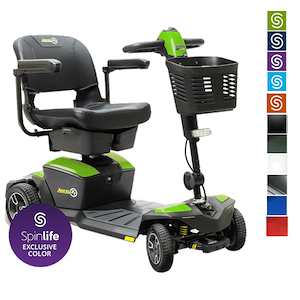 More Information on the Zero Turn 8
BACK TO TOP
Reviews
Viewing 1 - 4 of 4
Good product, too bad not suitable for me.
10/25/2020
Strengths:
Well built and strong.
Weaknesses:
Didn't see any weaknesses--it just didn't fit our situation.
Reviewer:
robert p. from houghton, mi
User Details:
Made purchase especially for getting around in our house as I use a walker. I found that size of impeded use within the layout of our house.
08/02/2019
Reviewer:
susan m. from salt lake city, ut
User Details:
Not provided
It is so bumpy. Rides awful. Stops so abruptly.
12/27/2018
Strengths:
Easy to use. Convenient for me, as I can't really walk.
Weaknesses:
Shakes too much when riding. Stops abruptly.
Reviewer:
dolores t. from abbeville, al
User Details:
I am disabled due to severe arthritis and other issues.
The quality is not as expected I'd return it if possible
10/05/2018
Strengths:
Its more stable than a 3 wheel but turns a like one
Weaknesses:
The front tires keep coming off the wheels when making turns. The throttle lever screws came undone in the first 30 days leaving me stranded.
Reviewer:
dennis c. from newtown, pa
User Details:
I'm 70 years old and have had MS for the last 40 years I bought the zero turn for travel when my wheelchair is too big.