Zero Turn 8
Zero Turn Technology creates 4-Wheel Stability with 3-Wheel Maneuverability.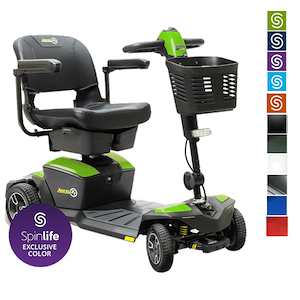 More Information on the Zero Turn 8
BACK TO TOP
Reviews
Viewing 1 - 12 of 28
The is the second Zero Turn 8 scooter we have bought. My...
09/17/2022
Strengths:
The zero turn ability and the size are great. The seat is comfortable. They both will fit side by side in our Subaru Forester.
Weaknesses:
The velcro does not hold some of the bezel accent plates on. Some of them will fall off when when you hit a bump. I had to attach them with double sided tape.
Reviewer:
donald r. from san antonio, tx
User Details:
I am a 67 year old male with a broken vertebrae and two bad hips that won't allow mw to walk very far without severe pain.
06/27/2022
Strengths:
Very comfortable
Weaknesses:
I have not found any weaknesses
Reviewer:
sherri p. from lander, wy
User Details:
Hi I'm 61 yes old and have MS I was diagnosed in the year 2000. My new scooter has already changed my life for the better.
06/22/2022
Reviewer:
max e. from dallas, tx
User Details:
Not provided
NOW I CAN GET AROUND SO MUCH EASIER.
08/31/2021
Strengths:
THE SMALL RADIUS IS THE MAIN REASON I CHOSE THIS SCOOTER. I CAN GET THRU THE HOUSE WITHOUT PROBLEMS. GETTING IN AND OUT IS EASIER THAN I THOUGHT IT WOULD BE. A CHARGE LASTS ME FOR DAYS. SEAT AND BACK IS COMFORTABLE. NOT THAT MUCH FOOT ROOM BUT MY HUSBAND MOVED THE SEAT BACK SO I FIT BETTER.
Weaknesses:
ONLY TWO. THE FRONT BASKET IS WAY TOO SMALL. THE COLOR PURPLE I CHOSE IS NOT THE SAME AS WHAT I RECEIVED. BOTH THE CATALOG AND WEBSITE SHOW AN AMETHYST SHADE OF PURPLE, WHICH IS MY FAVORITE COLOR. I RECEIVED A DARK PURPLE THAT IS NOT VERY PRETTY AT ALL. NOTHING OTHER THAN THESE TWO THINGS. EVERYTHING ELSE IS GREAT.
Reviewer:
connie s. from hurricane, ut
User Details:
USER IS A 74 YR. OLD FEMALE WITH HIP AND KNEE PROBLEMS. THEY KEEP HER FROM WALKING WITHOUT A WALKER AND THAT IS ONLY FOR VERY SHORT DISTANCES.
Nailed it. the last model 6 year old loved it to. This just...
06/10/2021
Strengths:
Dual Moters. Bigger diameter wheels. Zero turn BIG PLUSE! Lights. Boots that cover the brakes on back of moters. Battery charger. Came in purple he favorite color.
Weaknesses:
Wish the wheels on front were the same diameter as back. I have found over the years wheel size matters in mobility. The smallest bump at an any little angle will rip the tiller out of her hands. Still a big improvement.
Reviewer:
keith s. from grant, ne (caregiver)
User Details:
She. Cerebral palsy. Four limb minimal mussel and control.
05/15/2021
Strengths:
easy to use and works good on grass too.
Weaknesses:
It is a little to long to go into our bedrooms in the house.38 " would have worked better.
Reviewer:
lawrence g. from hampshire, il
User Details:
I am 73 and disabled I really like the zero turn scooter.
great chair, easy to use, fits in everywhere.
12/02/2020
Strengths:
small size, turning radius, battery life
Weaknesses:
not aware of any weakness
Reviewer:
nan k. from gastonia, nc (caregiver)
User Details:
My dad is 95, has almost no use of his legs except to transfer from bed to scooter to toilet to scooter to recliner chair, and is very pleased .
The ability to get around when walking is difficult.
10/01/2020
Strengths:
Ease of use. Sturdy, comfortable.
Weaknesses:
Could be slightly smaller.
Reviewer:
lois h. from clemson, sc
User Details:
A 75 year old that is 4' 9 with walking difficulties. I live in a retirement apartment; so now I can get involved in activities.
07/08/2020
Strengths:
Its heavy enough to feel confident crossing a busy road at the traffic light and to travel the roads in my subdivision, yet I can use it in my home. It's comfortable and easy to use.
Weaknesses:
Can't think of any relative to my situation.
Reviewer:
kaaren j. from bloomfield, mi
User Details:
I am 78 years old and unable to walk due to femur malunion. I bought this scooter to go to the stores close by and to travel through the subdivision.
My mother loves the new Scooter
05/07/2020
Strengths:
The turning radius and ground clerance allows for easy mobility indoors and out. The charging port is also easy to access.
Weaknesses:
if i was to say any thing i would make the ground clearance even across, and cover the motor for outdoor use
Reviewer:
owen m. from keokuk, ia
User Details:
Neither the user or care giver, I'm a family member who purchased the unit for my mother
04/11/2020
Reviewer:
dave m. from greenwood village, co (caregiver)
User Details:
90 year old mother. Was hoping she could ride this to the grocery which is .5 miles from her apartment
Large Building, Regular 3ft doors.
03/27/2020
Strengths:
Ease of Use and Sharp Turning.
Weaknesses:
Connecting the charging cable can be difficult.
Reviewer:
eugene e. from nelsonville, oh
User Details:
(0 Years Old and Still working.Own a 10 screen Movie theater & a 100+game arcade.