VivaLift! Elegance
Classic looks combine with modern features to make for a new favorite.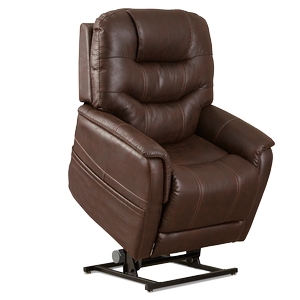 More Information on the VivaLift! Elegance
BACK TO TOP
Reviews
Viewing 1 - 10 of 10
05/14/2021
Strengths:
electric and adjustable
Reviewer:
reed b. from birmingham, al
User Details:
I am an 85 year old male with heart problems, breathing problems, and knees that are giving out. I have 2 VivaLift Infinite Position Lift Chairs
Nice delivery 1 box easy to assemble
04/30/2021
Weaknesses:
Don't like the final reclining position
Reviewer:
ron s. from cedar rapids, ia
User Details:
Has MS spends a lot of time in chair ñot happy with chairs end position
VivaLift! Elegance: Review
01/18/2021
Strengths:
Lifts you up where you can walk out of it
Weaknesses:
my second lift chair first one lifts by legs higher than this one? also more perks on first one than this one yet cost is about the same?
Reviewer:
william l. from las vegas, nv
User Details:
Handicapped Person
Seems well made and operates as detailed.
09/23/2020
Strengths:
Functions as detailed.
Reviewer:
richard m. from tumwater, wa
User Details:
85 yoa couple. Lady has infirmities. Chair excellent and as detailed.
07/24/2020
Strengths:
looks good. lots of features.
Weaknesses:
Too hard - uncomfortable for user to sit for prolonged periods of time.
Reviewer:
sonja s. from hemet, ca (caregiver)
User Details:
The chair is very nice, however, My husband finds it too hard and uncomfortable. When I called to ask about returning it, I was told I had pay to sh
Best chair I ever bought. Now we have two, His and Hers! ??
07/20/2020
Strengths:
I can sleep in it. Very soothing to the body. Thank you for making such a great chair. Hugs to you ?? ??
Weaknesses:
Just to make the leg rest go up higher because of blood pressure.
Reviewer:
edward a s. from painesville, oh
User Details:
Love this chair. The way it is padded, Lumbar and all the other positions. I wish the leg rest position went up higher so my feet were higher.
Foot rest doesn't fit my 6'1" height
12/21/2019
Strengths:
Strong chair has no problem performing all functions.
Weaknesses:
The footrest is a bit short. The control is awkward without a home, just hanging in the chair.
Reviewer:
peter c. from canastota, ny
User Details:
I have a above the knee amputation and use the chair to help get up.
Easy to operate, comfortable.
09/13/2019
Reviewer:
jeanette h. from hesperus, co
User Details:
74 yr old overweight with back and leg problems,helps with both.
Good price and as good a product as advertised.
08/20/2019
Strengths:
The various movement features.
Weaknesses:
Have not experienced any to date.
Reviewer:
lee s. from woodland, ca
User Details:
89 yr old male widower living alone chair makes get up easier
Great recliner just takes a little time getting used to.
08/16/2019
Strengths:
Quality and attractive upholstery.
Weaknesses:
No flat position, pictures on remote are quite small.
Reviewer:
jesse v. from nashville, tn
User Details:
Not provided
Popular Related Products