ZooMe Auto-Flex
This scooter folds and unfolds in 15 seconds. Watch the video!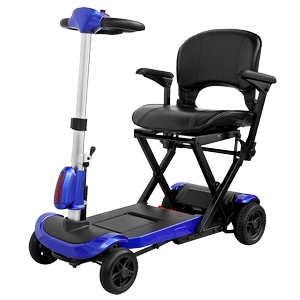 Drive Medical
(Model No. FLEX-AUTO)
VIEW ITEM
More Information on the ZooMe Auto-Flex
BACK TO TOP
Reviews
Viewing 1 - 2 of 2
08/14/2019
Strengths:
Light weight, but still too heavy for someone who really needs to pick it up. Main reason for buying this scooter I still may have to buy ramp to load it in car. I do like the fact that it folds up to fit in my car
Weaknesses:
Not made to look very strong. Not far on battery charge. Too slow only, 4 mph.
Reviewer:
joe t. from caneyville, ky
User Details:
Was not satisfied with preform Cheap looking for the price . Don't think it will hold up well .not really pleased with it was expecting more
Price is the biggest issue on the ZooMe, I don't feel it's...
07/06/2019
Strengths:
The opening and closing
Weaknesses:
Free wheel lever is under the back bumper, have to get on the floor to release. Steer bar is loose. When walking with the unit the back of the chair keeps falling down. It's heavy, I have trouble picking it up. The battery is expensive to replace.
Reviewer:
marie s. from denison, tx
User Details:
Spine and knee problems,I also have cancer.