EW 72
Speedy and sporty with 500 lb. weight capacity. Up to 15mph and up to 43 miles per charge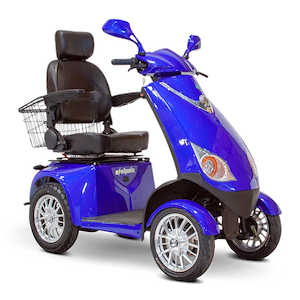 More Information on the EW 72
BACK TO TOP
Reviews
Viewing 1 - 12 of 56
Excellent quality product!
08/21/2022
Strengths:
4-wheel suspension.
Weaknesses:
The slowest it will go is 2 mph which my wife can barely keep up with me.
Reviewer:
dan p. from wickenburg, az
User Details:
74-year-old diabetic man with right foot amputated 9 years ago looking for a means to go on outdoor walks.
Has a few quirks but gets the job done admirably.
08/07/2022
Strengths:
Rugged, strong, fast, well built, comfortable.
Reviewer:
frank h. from oxford, me
User Details:
72 yo male withe prostate cancer, back pain, sciatica, type 2 diabetes. Still wants to get outside and visit the neighbors and go to the fairs.
07/15/2022
Strengths:
Easy to turn On/Off
Reviewer:
leroy k. from columbus, ne
User Details:
84 yr 0od male
Able to be out and doing simple things
06/26/2022
Strengths:
Ability to go on the road at a moderate speed Easy to use
Weaknesses:
Need a better way to charge the battery
Reviewer:
karen c. from ravenna, oh
User Details:
76 years old no longer driving a car but don't want to be stuck not able to get out and do simple things
04/15/2022
Reviewer:
bud t. from wenatchee, wa
User Details:
Having Hart issues Its hard to walk very far, the mobility scooter gives me the ability to take my dogs on long walks, love it!
mirrors do not fit cowling
04/14/2022
Strengths:
stability and versatility
Weaknesses:
mirrors not fitting properly and basket is useless as lid doesn't open except 4 inches
Reviewer:
elaine t. from webster, fl
User Details:
age 79 difficulty with balance and walking. wanted for getting around in yard
04/04/2022
Weaknesses:
A little slow on the take off
Reviewer:
pamela h. from salem, or
User Details:
72 years old and I have COPD and severe arthritis
i like it but mirrors were wrong i have contacted service...
12/20/2021
Weaknesses:
a little bit high off of ground and the twist throttle a little hard getting use to it
Reviewer:
raymond c. from mechanicsville, va
User Details:
75 yrs man old with leg disabilitys unable to walk long distances
This scooter is well built and very for anyone to use.
11/04/2021
Strengths:
Heavy duty scooter and goes through all terrain
Weaknesses:
The throttle is jerky
Reviewer:
rosemary w. from haines city, fl (caregiver)
User Details:
76 yr old male who is wheelchair bound. Needs something to get around outside
Much info shared with curious,have seen 2 in neighborhood
06/17/2021
Strengths:
Speed,leg room,loaded with features
Weaknesses:
throttle could be more responsive,uphill minor issue
Reviewer:
gregory d. from san jose, ca
User Details:
6'7" 350+ lbs, neuropathy, exclusive form of transportation,turning radius not great,charger not great,leg room,speed, adjustable of seat awesome
06/13/2021
Reviewer:
dennis w. from quincy, il
User Details:
I AM AN 80 YEAR OLD MALE AND I AM THE ONLY ONE WHO USES THE SCOOTER. I LOVE IT. THE ONLY PROBLEM IS THE OWNERS MANUAL IS ALMOST NON-EXISTANCE. I NEED
06/06/2021
Weaknesses:
none so far, but it is still early
Reviewer:
laurence g. from waterville, me
User Details:
it helps me get around when I have to do shopping, I do not have to asked others for rides to the store/