EW 72
High weight capacity scooter with up to 15 mph range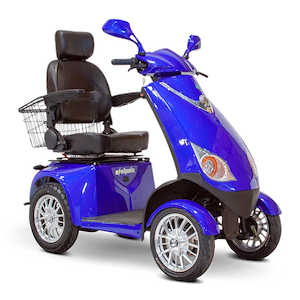 More Information on the EW 72
BACK TO TOP
Reviews
Viewing 1 - 12 of 62
Needs bottom end torque and turn sharper
09/07/2023
Strengths:
Speed and looks
Weaknesses:
Throttle control and turning radius
Reviewer:
leonard p. from arlee, mt
User Details:
I have back problems and I'm in a wheelchair and I am about 400 lb.
Totally worth the money! Able to use on flat cement, wooded...
05/12/2023
Strengths:
Easy to use straight out of the box! Great speed, and use on different material (blacktop, gravel, wooded. flat and hills,
Weaknesses:
It has quite a lag when starting off. Also, sometimes when slowing down it completely stops no matter where you are, and have to start all over.
Reviewer:
daniel j z. from plover, wi
User Details:
I am a 61 yr old female disabled user who loves the outdoors and staying as active as possible
Recommend to only certain people with special needs
01/29/2023
Strengths:
Plenty of power, very stable but short turning radius, easy controls, seat swivel is not good, should be at least 4-6 more ball bearings in swivel ring below the seat, tires have good traction, the real bad feature is the speed pot potentiometer, unable to slow down safely enough to enter through doorways and loading into handicap van safely, back up alarm horn is so ungodly loud that people get very alarmed in and out of Dr. Office.
Reviewer:
mike m. from little falls, mn
User Details:
Age 70,leg and back issues,cannot walk any distance or stand. One very bad shoulder in need of repair and just had major neck surgery
Fun to have and rideable.
01/18/2023
Strengths:
Good rear view mirrors, good power .
Weaknesses:
Accelerator is touchy.
Reviewer:
herbert h. from springfield, or
User Details:
Age 79 1 Week arm ,and like to go out on bike trails with my scoter as often as the wether will alow.
01/08/2023
Strengths:
I like the speed that's about it
Weaknesses:
The throttle on the thing sucks and when you let go of it makes a loud noise
Reviewer:
timothy i. from clermont, fl
User Details:
I'm 67 years old type 2 diabetic with an amputated left leg.
12/14/2022
Strengths:
Very good scooter built Very helpful for handle Cap people who a nice Way to get around Thank you.
Reviewer:
jordan t. from americus, ga (caregiver)
User Details:
My name Tommy I love my ew72 scooter It is unique scooter Very good scooter . so far fast I really like it.
Excellent quality product!
08/21/2022
Strengths:
4-wheel suspension.
Weaknesses:
The slowest it will go is 2 mph which my wife can barely keep up with me.
Reviewer:
dan p. from wickenburg, az
User Details:
74-year-old diabetic man with right foot amputated 9 years ago looking for a means to go on outdoor walks.
Has a few quirks but gets the job done admirably.
08/07/2022
Strengths:
Rugged, strong, fast, well built, comfortable.
Reviewer:
frank h. from oxford, me
User Details:
72 yo male withe prostate cancer, back pain, sciatica, type 2 diabetes. Still wants to get outside and visit the neighbors and go to the fairs.
07/15/2022
Strengths:
Easy to turn On/Off
Reviewer:
leroy k. from columbus, ne
User Details:
84 yr 0od male
Able to be out and doing simple things
06/26/2022
Strengths:
Ability to go on the road at a moderate speed Easy to use
Weaknesses:
Need a better way to charge the battery
Reviewer:
karen c. from ravenna, oh
User Details:
76 years old no longer driving a car but don't want to be stuck not able to get out and do simple things
04/15/2022
Reviewer:
bud t. from wenatchee, wa
User Details:
Having Hart issues Its hard to walk very far, the mobility scooter gives me the ability to take my dogs on long walks, love it!
mirrors do not fit cowling
04/14/2022
Strengths:
stability and versatility
Weaknesses:
mirrors not fitting properly and basket is useless as lid doesn't open except 4 inches
Reviewer:
elaine t. from webster, fl
User Details:
age 79 difficulty with balance and walking. wanted for getting around in yard