Buzzaround EX 4-Wheel
The EX is the speediest Buzzaround model yet - now with an even longer drive range!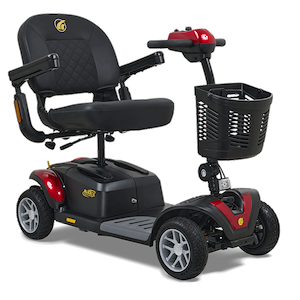 Golden Technologies
(Model No. GB148)
VIEW ITEM
More Information on the Buzzaround EX 4-Wheel
BACK TO TOP
Reviews
Viewing 1 - 12 of 260
10/13/2022
Strengths:
Quality built, Comfortable ride.
Weaknesses:
It can be heavy for people who have trouble lifting. It does come apart in 5 pieces which is great, but if you have a bad back or other medical issues it could be a problem. Do your research first.
Reviewer:
joel d. from north attleboro, ma
User Details:
I have used the Buzzaround Scooter a few times now and overall it's a solid, well built scooter. Only complaint, it could be heavy for some people.
A happy and GREAT purchase!
10/09/2022
Weaknesses:
For my husband, it could have a few more inches of foot room.
Reviewer:
mildred l. from sussex, wi (caregiver)
User Details:
My husband needs the buzzaround to get out of the house and out in the sunshine when the weather permits.
Great help for those who need help getting around
10/07/2022
Reviewer:
terri f. from riceboro, ga
User Details:
We bought this as a surprise to my Mother-in-law and she was SO Happy, and loved it!
10/07/2022
Strengths:
I believe having 4 wheels are the safest.
Weaknesses:
none so far as I just got it about a month.
Reviewer:
frank w. from monroe, mi
User Details:
My age is 85. I have a hard time climbing stairs and walking long distance. I have heart failure and hard to breathe when trying to walk fast.
the scooter is fine except it does not stay charged long...
10/07/2022
Strengths:
easy too use and looks good
Reviewer:
william j. from carlsbad, nm
User Details:
main problem with the scooter is the range is not near what the say. after 1-2 miles the batteries need to be recharged.
10/06/2022
Strengths:
Great suspension, rugged
Weaknesses:
Seat too heavy, charging port not conveniently placed
Reviewer:
cathy y. from colorado springs, co
User Details:
User has mobility issues
Very good quality and features for the cost.
10/06/2022
Strengths:
Love that it has the capability of being taken down and transported. Extremely comfortable, has good speed and battery life.
Weaknesses:
Have not found any up to this point. Totally satisfied with this product. Keeps me mobile!
Reviewer:
jean t. from youngsville, pa
User Details:
COPD and Cardiac patient. Ability to walk only short distances.
Scooter takes me places I can't go with my foot issues, ect
10/06/2022
Strengths:
Compact higher weight limit for plus sized people. Sturdy Easy maneuverability. So fun to ride Safe for disabled person.
Weaknesses:
A bit heavy for me to be able to put in the trunk of my full size Buick Lacrosse. Takes up a lot or most of the space in my trunk. Need help lifting it into my trunk & assembly by myself.
Reviewer:
bonnie b. from rexburg, id
User Details:
Grandmother age 64. Diability-psoriatic arthritis & oseoarthritus of the knees, lower back, ect. Foor problems. Walks with a cane.
Glad to have bought my scooter
09/20/2022
Strengths:
It really goes a lot faster than I thought and I'm not having trouble getting around on my road
Reviewer:
debra m. from storm lake, ia
User Details:
67 years old can walk a little bit but not well really freed me up to do more things for myself
Very happy when initially noisy gear box was immediately...
08/22/2022
Strengths:
Good battery life. Better ground clearance. large diameter wheels
Weaknesses:
53 pound weight of heaviest component
Reviewer:
daniel g. from loda, il
User Details:
Male age 74 with nerve damage in foot and limited walking ability. Have been using mobility carts for 12 years
Quality of life for my wife.
08/18/2022
Strengths:
Easy to assemble and dis assemble for transport. Very sturdy.
Weaknesses:
I have found none.
Reviewer:
fred b. from galax, va (caregiver)
User Details:
I bought the scooter for my wife. She had damaged her knee and got to the point she could no longer walk. The scooter has been a life saver.
08/18/2022
Strengths:
The seat and batteries can be removed and replaced in seconds so expensive and bulky ramps or lifts are not necessary. The seat is comfortable, the ride is smooth and it goes over grass with ease.
Weaknesses:
I haven't found any "weaknesses" for this product so far. I think this was definitely a smart choice after looking at multiple scooters in the same category as the 4 wheel Buzzaround.
Reviewer:
deborah i. from chesapeake, va
User Details:
I am 49 years old and my right leg does not work or bend properly as a result of cancer surgery.