Gemini
Rear-Wheel Drive Powerchair with an optional Power Elevating Seat!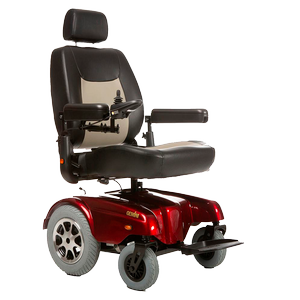 More Information on the Gemini
BACK TO TOP
Reviews
Viewing 1 - 5 of 5
Controller too sensitive.
05/08/2022
Strengths:
Seat height. Ability to go higher to reach things.
Weaknesses:
Sensitive movement controller.
Reviewer:
rose d. from yardley, pa
User Details:
83 year old .The Gemini fits my needs it has one major fault. The controller is sensative, difficult to get it adjusted to less sensativaty.
08/19/2020
Strengths:
Large and durable good for outdoor use
Weaknesses:
Not good for indoor use in a normal size house. Might be ok in a very large house. I had to return it.
Reviewer:
james c h. from commerce, ga
User Details:
Very nice. Had lots of features.
A chair for people having transfer problems.
06/29/2020
Strengths:
The adjustable height allows easy transfer usimng a transfer pole-no more pulling yourself up from a low chair. Also the extra width of the chair accomodates a big man.
Weaknesses:
The sesitivity of the controls takes a bit of learning-many mini-crashes when in small spaces.
Reviewer:
carol r. from vancouver, wa (caregiver)
User Details:
He is a 74 year old man who has completely lost the use of his right leg and has quite arthritic shoulders. He weighs over 325 pounds.
Very capable heavy duty chair
10/14/2019
Strengths:
Capacity, speed, battery life per charge, suspension, comfort.
Weaknesses:
The casters take a bit of getting used to. There are times when you have to stop and try to realign the front casters before proceeding. The joystick is also more sensitive than I expected.
Reviewer:
james s. from longview, wa
User Details:
68 yr. old diabetic with partial foot amputation, facing fusion surgery, making ready for long term non- weight bearing recovery.
This chair is wonderful outside!
11/02/2018
Strengths:
The battery system lasts longer on a charge! The seat is very comfortable.
Weaknesses:
Since I needed larger tires, I had to get a wider power wheelchair. This chair is more difficult too get through doorways and the canopy is great, but catches on door frames. If it were not for the back tip-proof wheels the entire chair would have gone completely over on my back a couple of times by now (VERY SCARY!)!
Reviewer:
marco b. from bellingham, wa
User Details:
A double amputee of a below the knee amputation & amputation on the right foot, back tothe heal!