Gemini
Rear-Wheel Drive Powerchair with an optional Power Elevating Seat!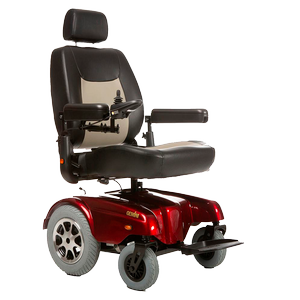 More Information on the Gemini
BACK TO TOP
Reviews
Viewing 1 - 4 of 4
08/24/2023
Strengths:
This chair does have a higher ground clearance.
Weaknesses:
I am really struggling with the big wheels on the front.
Reviewer:
patricia t. from norwalk, ca
User Details:
I have osteoarthritis, fibromyalgia, 3 degenerating disks in my back, and I am bone on bone in both knees.
Don't like the seat and it rides very rough
06/14/2023
Strengths:
Seems to be strong
Weaknesses:
Rides to rough and I am to far from the ground to reach things on the floor
Reviewer:
patrick k. from eureka, mt
User Details:
i am old and crippled
Seems to be a good product.
10/04/2019
Weaknesses:
Can be a bit too high for a standard table or desk.
Reviewer:
dean h. from pierre, sd
User Details:
75 year old man cant walk on his own.
The standard 22" wide seat makes it difficult to get around...
05/05/2018
Strengths:
Ground clearance (4") - power lift on seat.
Weaknesses:
The 22" wide seat is too wide for most people.
Reviewer:
rodger w. from windsor, co
User Details:
I am a 78 year old man with Parkinson's disease who recently had shoulder replacement surgery. This surgery meant that I could not use my walker.