Buzzaround XL 4-Wheel
The 2" longer frame gives more legroom in a compact design.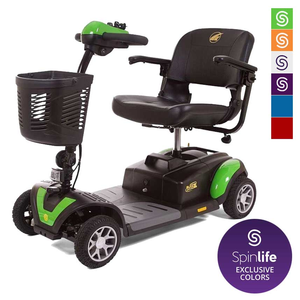 Golden Technologies
(Model No. GB147DHZ)
VIEW ITEM
More Information on the Buzzaround XL 4-Wheel
BACK TO TOP
Reviews
Viewing 1 - 5 of 5
Really love and looking forward to using it.
07/11/2022
Strengths:
Well made and hope it will last for the rest of my life and beyond.
Weaknesses:
It would be really nice if you sold carriers for these scooters. It has made it hard for me to utilize its use because I have nothing to transport it on when I go shopping.
Reviewer:
sharon k. from paynesville, wv
User Details:
Furiously independent and unwilling to admit defeat in anything.
Buzzaround XL 4-Wheel: Review
03/12/2021
Strengths:
It fills the need at reasonable cost.
Weaknesses:
I have not found and as y et.
Reviewer:
robert h. from alexandria, la
User Details:
I am 87 years old and live in an assisted living home. It has become difficult to walk so the scooter is working out just great. I got a bigger basket
08/29/2019
Strengths:
Pulls a steep incline no problems. Able to change out colors for a new look. Nice seat
Weaknesses:
Would like bigger tires and would like tail lights.
Reviewer:
ron c. from sheridan, il
User Details:
Male. 286 lbs
06/30/2017
Strengths:
Was so easy to assemble my granddaughter did it for me. Easy access to charging port. Having 4 wheels is more steady than my 3 wheel scooter.
Weaknesses:
Haven't found one yet.
Reviewer:
nalani k. from middleburg, fl
User Details:
I am a 67 year old widow who suffers from Multiple Sclerosis which causes me to lose my balance and fall frequently.
Buzzaround XL 4-Wheel: Review
04/20/2016
Strengths:
Easy to take apart to load in car.
Reviewer:
donald t. from mabank, tx
User Details:
Not provided