Aluminum Shower Chair and Commode with Casters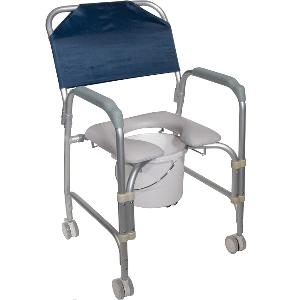 Drive Medical
(Model No. 11114KD-1)
VIEW ITEM
More Information on the Aluminum Shower Chair and Commode with Casters
BACK TO TOP
Reviews
Viewing 1 - 2 of 2
Aluminum Shower Chair and Commode with Casters: Review
10/27/2019
Strengths:
Ease of use to get her into the shower and thoroughly bathed.
Weaknesses:
It would be more convenient if the front bar that held the uprights together was curved differently for transfers
Reviewer:
jeanne h. from lisbon falls, me
User Details:
My mom, Jeanne, is severely crippled by RA. It was hard to give her a shower until we found this shower chair.
Good, but lacks leg rests.
01/29/2015
Strengths:
Lightweight and sturdy.
Weaknesses:
No leg rests.
Reviewer:
max q. from lyndhurst, va (caregiver)
User Details:
My 35 year old wife is hemiplegic. We have only used this chair twice so far. We bought it as a travel chair. It is very lightweight but sturdy.
Popular Related Products