2GX Series 2
Titanium modular folding frame wheelchair with the strength, vibration dampening, and ultra-light weight of titanium.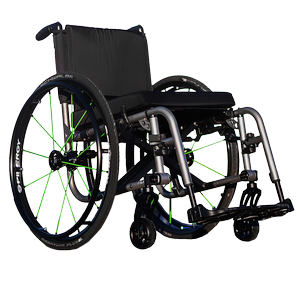 More Information on the 2GX Series 2
BACK TO TOP
Reviews
Viewing 1 - 7 of 7
Durability and Performance is awesome.
03/16/2022
Strengths:
Strength and lightweight are great.
Reviewer:
alex g. from fargo, nd
User Details:
Not provided
01/22/2019
Strengths:
Light weight. Love the improved arms!
Reviewer:
thomas g. from arlington, wa
User Details:
63 year old Male. Bi lateral amputee.
Awesome chair and provides the features I need to get...
10/22/2018
Strengths:
The quality is outstanding, the people I worked with are professional, courteous, and kept all promises and delivery estimates.
Weaknesses:
I have not found any real weaknesses, but I could offer a couple of improvement ideas.
Reviewer:
timothy b. from conroe, tx
User Details:
I am getting close to retirement in years and experienced an issue with my feet. After back surgery, my feet have become impacted with chronic pain.
08/13/2018
Reviewer:
thomas s. from canton, oh
User Details:
Age 90, 6'4".
Had to adjust one brake, learned how online.
04/24/2018
Reviewer:
robert i. from st. peters, mo
User Details:
58 year old male. Cannot walk due to balance issues.
Thye product is quite simply terrific; it accomplishes...
02/14/2018
Strengths:
This chair is faster, more maneuverable and smoother than my preceding chair. In addition, it is light enough to permit me to lift the chair into my SUV while sitting on the floor of the back of the SUV - try that with a conventional wheelchair.
Reviewer:
robert c. from sante fe, nm
User Details:
I am a 75 year old, one legged male. My disability occurred in 2014.
As expected. Ease of ordering. Quick turnaround to build...
11/18/2017
Reviewer:
ileaina h. from redding, ca
User Details:
Not provided