Ventura DLX 3-Wheel
Standard 33 AH batteries for up to 16 miles per charge with a 400 lb. weight capacity.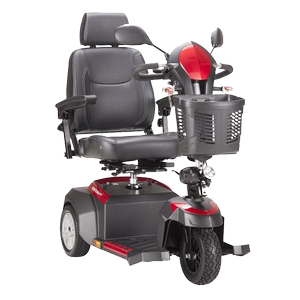 Drive Medical
(Model No. VENTURA320CS)
VIEW ITEM
More Information on the Ventura DLX 3-Wheel
BACK TO TOP
Reviews
Viewing 1 - 12 of 16
08/19/2022
Reviewer:
leon f. from pahrump, nv
User Details:
Not provided
08/19/2022
Reviewer:
leon f. from pahrump, nv
User Details:
Not provided
A definite update to my old scooter.
08/08/2022
Strengths:
The large back and head rest, recliner seat,sliding seat,and under carrage height, mirrors and larger tires.
Weaknesses:
Did not come with a USB connection.
Reviewer:
ernest m. from grand terrace, ca
User Details:
I am a 70 year old man who is disabled by Multiple Schlerous to my lower half.
02/07/2021
Strengths:
Easy to get around corners. Able to handle weight.
Weaknesses:
Mirrors are pretty well useless and in the way
Reviewer:
les m. from lake stevens, wa
User Details:
68 year old man with a right leg bta. 350 lbs. Mobility and balance issues.
12/30/2020
Strengths:
I am able to transfer to this scooter with ease because of the 360 swivel and being able to move the seat forward or backward. Key is located conveniently and steering is easy. Captain's chair is very comfortable. Many added features enhance this purchase and pricing was great!
Weaknesses:
The only thing I would change would be able to tighten the rearview mirrors better so I didn't have to always adjust.
Reviewer:
brenda s. from marion, ia
User Details:
I am 71 yrs old and disabled over 10 yrs because a nerve disease prevents me from walking. I've had 3 scooters and this one fits my needs best.
Gave me the freedom I needed.
09/29/2019
Strengths:
Durability, style and ease of use.
Weaknesses:
Not weather friendly.
Reviewer:
millard c. from belmont, oh
User Details:
This scooter is perfect for me. It was easy to assemble and I like having all the lights and mirrors. Just wish it was more weather friendly.
08/15/2019
Weaknesses:
It would be nice if it had larger wheels.
Reviewer:
richard m. from west seneca, ny
User Details:
76 yrs. wheelchair and some walker use. trying to speak to a person is hard. your service is terrible.
03/06/2019
Strengths:
Ease of accessibility to get on and off. Great leg room
Reviewer:
bill r. from ridgeland, sc (caregiver)
User Details:
Wife is unable to walk very well due to a traffic accident 20 years ago
Ventura DLX 3-Wheel: Review
10/23/2017
Strengths:
It's more stable than my neighbor's scooter. It's comfortable. I like the rear view mirrors
Weaknesses:
The charge cord should be longer.
Reviewer:
nell d. from covington, la
User Details:
I use it to get from my room to the dining room downstairs. Only indoors.
Front basket too small and fragile
05/04/2016
Strengths:
Front and rear lights
Weaknesses:
Too much power needed to go in reverse, then when you go forward, it's set too fast. More suspension for a softer ride. The cost of a rear basket is way overpriced . Instead of interchangeable colors, a rear basket should be included in the price instead.
Reviewer:
gladys b. from imperial beach, ca
User Details:
Old overweight lady with spine and walking problems
Great, mobile, and powerful enough to allow better range...
01/31/2016
Strengths:
Look and feel are excellent. East setup, maintenance free basically, plus I like the ability to change up colors
Weaknesses:
Changing the seat and the strength of the lower rim plastics have been found to be worrisome, though you all handled my issue without any hassle whatsoever which made me very happy
Reviewer:
john c. from parrish, fl
User Details:
53 years old, dx with spinal disc degenerative disorder. As a result, walking, sitting, even standing a severely limited.
Excelent product, very sporty looking.
01/14/2016
Strengths:
Battery life is excellent. Plenty of foot room.
Weaknesses:
I have found no weaknesses.
Reviewer:
deborah a. from vienna, va
User Details:
57 year old female unable to walk due to nerve damange.